Bangor University and Siemens Healthcare Diagnostics sign up to future collaborations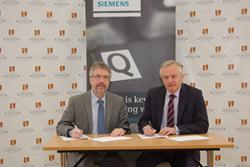 Dr Fraser Logue, Vice President Operations and Managing Director at Siemens Healthcare Diagnostics (left) and Professor John G Hughes, Vice-Chancellor of Bangor University sign the Memorandum.Bangor University and Siemens Healthcare Diagnostics have signed a formal Memorandum of Understanding which will enable both organisations to work more closely together in future years.
Based at the Glyn Rhonwy site in Llanberis, some 15 minutes away from the University, Siemens Healthcare Diagnostics employs around 500 people as part of Siemens Healthcare which is one of the world's largest suppliers of technology to the healthcare industry. The company is a pioneer in medical technologies that help deliver a better quality of healthcare. It is also one of the Welsh Government's 'Anchor Companies' – designated as such because of its importance to the economy of Wales as a whole.
With shared interests principally in the development of expertise and training relating to Biological and Life Sciences, but also Engineering, Business, Management and Computational Sciences, both organisations share a similar vision for the economic development, vitality and vibrancy of the north Wales economy as a whole.
The company and the University have, therefore, been working together over recent months via a Higher Education Funding Council for Wales Strategic Insight Programme (SIP). Whilst the University and the company have previously worked together on very specific, individual projects, the SIP programme has prompted staff interchanges, discussions and interactions at both the most senior level of management as well as at operational levels in both organisations. This has delivered a far more corporate and comprehensive overview of potential opportunities for future collaboration.
Professor John G. Hughes, Vice-Chancellor of Bangor University said:
"To have a global entity such as Siemens on the University's doorstep, with so many shared interests, both academically and in the economic development of the region, presents us with a great opportunity to jointly develop our staff, provide unrivalled work and study experience for our undergraduates and post-graduates as well as to work together for the benefit of the region as a whole"
"I am delighted, therefore, that we now have in place this formal framework which will enable us to collaborate in a more structured, planned and effective manner, for the mutual benefit of all, over the years to come".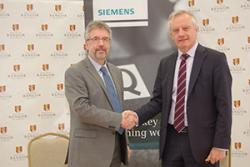 Dr.Fraser Logue, Vice President Operations and Managing Director at Siemens Healthcare Diagnostics, said:-
"We are pleased to have formed this partnership with Bangor University. Innovation and new thinking is key to the success of our company and our mutual aim is that this agreement will provide opportunities for Siemens employees at Llanberis and for staff and students of Bangor University to develop their skills. Importantly from an economic perspective, this partnership will strengthen the talent available in the region by enhancing the opportunities to study, gain qualifications and gain experience of working in a global organisation in the area and also by attracting key skills to settle in the outstanding natural beauty of North Wales."
As a result of the signing the Memorandum of Understanding both parties will now work together more closely and openly to take advantage of a number of opportunities identified during the SIP programme. It is likely that students from the University will benefit from both work placements and study placements at the Siemens site which will greatly enhance their future employability. The company and the University will also work together on new approaches to Continued Professional Development which will benefit the staff of both organisations. The company will look to collaborate and support research in areas of common interest. Both parties are also eager to work together on educational outreach activities, particularly to promote awareness of science, technology, engineering and maths amongst young people as well as to attract and develop the pool of talented and suitably qualified people needed to drive the knowledge economy in North Wales.
Publication date: 14 May 2015