Bangor University and Wales Squash launch new innovative partnership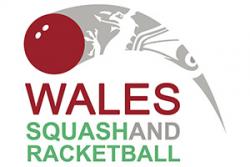 Bangor University and Wales Squash & Racketball (WSRB) are celebrating the launch of an innovative new partnership to help the best young squash players achieve success both on and off the court.
Launched at Canolfan Brailsford, Bangor University's sports centre recently, the partnership will offer the best young squash players the opportunity to study in Wales whilst receiving a tailored support package from WSRB. Through a mixture of Bangor University sports scholarships and individualised coaching, Bangor University and WSRB will be able to offer student-athletes a realistic alternative to having to study outside of Wales in order to meet the demands of their squash training.
As part of the partnership, WSRB North Wales Regional Development Officer and junior national coach, Andrew Evans will be based at Canolfan Brailsford from September 2016, giving athletes access to the highest quality coaching and benefit of his experiencing coaching over 40 Welsh champions. Andrew will also be working with the University squash club to improve their performance in British Universities and Colleges Sport (BUCS) competitions.
Bangor University is investing in the first professional standard squash court in north Wales, with an adjustable "tin" being installed to help athletes prepare for life on the professional squash tour.
Speaking about the partnership, Bangor University Director of Sport, Richard Bennett, said:
"This is an exciting time for us as we look to build on the range of sports that we are working c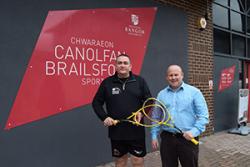 Andrew Evans (left) and Richard Bennettlosely with. Following our significant investment in our sports facilities we are able to combine high quality training facilities alongside our nationally recognised high standards of teaching and learning."
Mike Workman, WSRB Director of Coaching and Development, said:
"We have always struggled to keep our best young players in Wales but this partnership will have a huge impact on our ability to train and develop our best young juniors as a cohesive group. Bangor University will be a key partner in shaping the future of squash in Wales. The investment in both facilities and scholarship will really put Bangor on the squash map."
Publication date: 23 May 2016