Bangor University Appoints Vice-Chancellor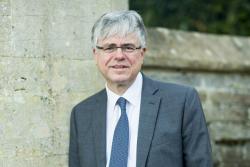 Professor Iwan Davies has just been announced as the new Vice-Chancellor of Bangor University.The Council of Bangor University has appointed Professor Iwan Davies FLSW as the University's next Vice-Chancellor. He will become only the eighth Vice-Chancellor or Principal in the University's 135 year history.
Professor Davies is currently the Senior Pro-Vice-Chancellor at Swansea University, and he is a leading authority on international commercial law with a particular interest in asset finance, IP and personal property law.
In his current role he has responsibility for internationalisation, strategic development, resources and estates. He led the development and delivery of Swansea University's new £450m Science and Innovation Campus with an emphasis on University and Industry collaboration. He has a strong reputation for internationalisation, and has developed a number of successful initiatives and partnerships around the world, holding two Visiting Professor posts in China, as well as other international appointments.
A graduate of Aberystwyth, Cambridge and Cardiff Universities, he is also a Barrister, having been invited and called to the Bar for distinguished legal academic scholarship.
A fluent Welsh speaker, he has an ambitious Welsh and international vision for Bangor University.
Professor Davies said:
"Bangor University is unique in terms of its location and history, as well as its research and teaching strengths which underpin an outstanding student experience.
"I look forward to build on these strengths to create a strong, confident Civic University which not only serves Bangor and its region, but is also genuinely transformational for Wales and the world."
"One of my first priorities will be to meet the staff and students, and I very much look forward to hearing directly from them about their ambitions for the university over the coming years. I believe strongly in a partnership approach to management which is inclusive, and I know that by working together as a community we can create real momentum and also make Bangor financially stronger.
The appointment was announced today, following a recruitment process led by Marian Wyn Jones, the Chair of Bangor University's Council.
"Professor Davies is a highly respected academic with a wealth of leadership expertise, and has substantial experience of the Welsh Higher Education sector," said Marian Wyn Jones.
"We were impressed with his clear strategic vision for the future of Bangor as an ambitious and successful University and I am sure it will thrive under his leadership.
"These are challenging times for the higher education sector, and I am sure that the staff and students of the university will provide him with all their support as we enter a new chapter in the university's history. The uncertainties and challenges will always emerge, as evidenced by Brexit, but I am confident that Professor Davies will lead Bangor through this period and create a dynamic and thriving university for the region, Wales and the world."
Professor Davies will take up his post on the first of September and the Interim Vice-Chancellor, Professor Graham Upton will continue in post until then.
Publication date: 16 May 2019