Bangor University at the National Eisteddfod
Staff from Bangor University are preparing to take part in the National Eisteddfod, which is held in Carmarthenshire this year.
Bangor University always has a strong presence at the Eisteddfod and is a main sponsor of the Eisteddfod Science and Technology Pavilion, where a range of activities entice and intrigue children and adults. This includes the ever popular Flash Bang Chemistry shows, presented by Dr Robyn Wheldon-Williams and his team from the University's School of Chemistry, who will also be there, amazing their daily audiences.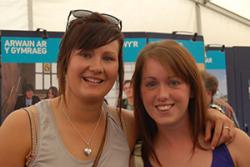 Two friends meet at the reunion.A highlight for any keen 'Eisteddfodwr' is the opportunity to meet up with old friends, and this is made easier for graduates of Bangor University and the former Normal College at an annual 'reunion' at Bangor's stand on the 'Maes' or Eisteddfod field. Bangor's graduates know that Bangor University's marquee on the Wednesday afternoon is the date to remember to catch up with old acquaintances! Vice-Chancellor John G Hughes will be looking forward to greeting graduates and telling them some about exciting developments at the university.

Prof Jerry Hunter Pro Vice-Chancellor at Bangor University commented:
"With a long tradition of contributing to Welsh culture, the University takes an active part in contributing to the success of the Eisteddfod. We are the largest provider of Welsh-medium university education in Wales, and take great pride in our lively Welsh-language community. We at Bangor enjoy extremely strong and productive relationships with our communities, and that includes contributing to the 'high points of Welsh-speaking Wales' cultural year, the National and Urdd Eisteddfodau."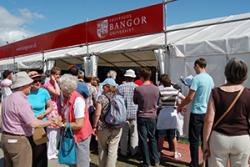 Bangor University's activities on the Maes attract a crowd.The University's marquee will be a hive of activity throughout the week, with events and activities arranged every day. Highlights will include a session led by Pontio and Theatr Genedlaethol Cymru discussing Chwalfa. This is a Theatr Genedlaethol Cymru production, in partnership with Pontio and Cwmni'r Frân Wen. The production of Chwalfa will be at Theatr Bryn Terfel - Pontio, which is the University's new Arts & Innovation Centre in Bangor.
Professor Gerwyn Wiliams of the School of Welsh is presenting two Annual Lectures, both focussing on literature related to the First World War. Having published widely on War literature, Prof Wiliams will be presenting the Coleg Cymraeg Cenedlaethol Annual Lecture on Tuesday and presenting the Annual Lecture for the Cymdeithas Emynau Cymru Welsh Hymn Society on Wednesday.
The School of Music leads events at the marquee on Thursday. Activities include a vocal master-class with Ann Atkinson of Canolfan William Mathias, a chance to pose questions to successful Cân i Gymru winners Gethin Griffiths and Ifan Davies, a Musical Quiz at 3.00 and a performance by Casi Wyn and string Quarter at 5.00.
Teams of poets from among Bangor and Aberysthwyth universities' students and academics go head-to-head in the friendly poetry competition, Talwrn y Beirdd at 12.00 on Thursday- this year hosted on the Maes by Aberystwyth University.
Friday will be another musical day, as Basque folk group, Bitartean, play at the University's stand in the morning to assist with the launch of a new 'ap' for Welsh learners. Developed for the North Wales Welsh for Adults Centre the new app for Learners and Foundation Levels will be ready for September 2014.
Activities reach a climax on Friday afternoon with popular band Swnami, led by singer Ifan Davies, a Bangor student, play live at the marquee at 2.30.
Publication date: 31 July 2014