Bangor University awarded grant to reveal contents of 17th century Mostyn letters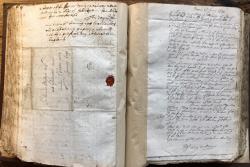 One of three thousand rare letters surviving from the Mostyn and Gloddaith EstatesThree thousand rare letters surviving from the 17th and 18th centuries are to be made available to the international scholarly community following a new research award from the Marc Fitch Fund.
Bangor University's Institute for the Study of Welsh Estates has been awarded the £40,000 grant to digitise and research an exceptional collection of letters kept in the library of Mostyn Hall in Flintshire.
The handwritten letters were received by Sir Thomas Mostyn (1651-92) and Sir Roger Mostyn (1673-1739) from a vast network of contacts and correspondents during the periods c.1672-92 and c.1721-40. It is one of the most comprehensive collections of letters surviving from 17th and 18th century Wales. During this period the Mostyns of Mostyn and Gloddaith were one of the most prominent gentry families in Wales. The letters relate to all aspects of their interests and activities, ranging from parliamentary affairs, religious debates and office-holding, through to book collecting, marriage strategies, education, antiquities and local gossip. They also include an unparalleled collection of personalised manuscript newsletters, sent from London to Gloddaith Hall, which provide detailed coverage on all aspects of national and international news.
The letters are bound into volumes which form part of the famous library at Mostyn Hall, Flintshire. Thanks to the support of Lord Mostyn, all of the letters will now be digitised and made available to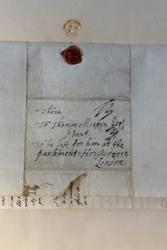 An address panel from one of the letterssearch and read on the Early Modern Letters Online (EMLO) website, managed by the University of Oxford.
During the project the letters will be researched and transcribed by Dr. Mary Chadwick and Dr. Sarah Ward Clavier (University of the West of England), who will identify opportunities for the collection to offer new insights into Welsh, English and European history.
The project will run alongside a series of events attached to a Mostyn exhibition at the National Library of Wales, Aberystwyth. The exhibition celebrates the centenary of the acquisition of the first group of Mostyn Manuscripts by the Library. It has been developed in partnership with Bangor University and Mostyn Estates and in addition to showcasing some of the most significant manuscripts from the Library's collection, includes a number of items from Mostyn Hall.
The Marc Fitch Fund project was formally announced at the launch of the #Mostyn100 exhibition at the National Library of Wales on 6th July.
Commenting on the award of the grant, Dr. Shaun Evans, Director of the Institute for the Study of Welsh Estates said:
'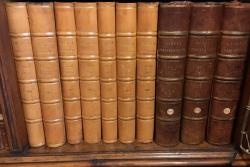 Some of the volumes containing the letters which are stored in the Mostyn Estate Library.'We are delighted to have received this grant from the Marc Fitch Fund, which will allow us to unlock the research potential of one of the most important collections of letters surviving from late-17th and early-18th century Wales. The funding for digitisation will allow us to make the letters accessible to a global scholarly audience for the first time. We are extremely grateful to the Marc Fitch Fund for supporting the project, and to Lord Mostyn for his willingness to share this important cultural heritage collection. The letters have the potential to provide new insights into a range of historical issues and events and will be used by academics for years to come.''
Publication date: 9 July 2018