Bangor University Awards Peer Guides of the Year 2014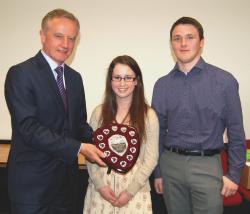 The Vice Chancellor presenting Victoria and Joe with the Peer Guide of the Year shield.Victoria Allen and Joe Barnett have been named Peer Guides of the Year 2014 at Bangor University in recognition of the fantastic support that they both have provided to first year students at the University.
Victoria (21) is a third year History student at the School of History, Welsh History and Archaeology. She attended St Peter's RC High School and Sixth Form Centre in Gloucester before embarking on her university studies. A former Denbigh High School pupil, Joe (21) is a second year Sports Science student at the School of Sport, Health and Exercise Sciences.
Both received a shield and a £50 Amazon voucher.
Bangor University's Peer Guiding Scheme helps new students settle in to university life by assigning them to a student already at the University, who has received special training to enable them to assist their fellow students. With nearly 450 Peer Guide students taking part, it is one of the largest schemes in the country.
Peer Guides help students to socialise, find their way around the town and the University. They can act as important 'sign posts' to accessing further information and support while at university.
"The Peer Guides' commitment and contribution made to Bangor University life is invaluable" says Kim Davies, Peer Guide Coordinator at Student Support Services. "Not only do the Peer Guides organise and run events through Welcome Week, they are on hand to assist new students in adjusting to University life. They can make a difference between a student deciding to stay or leave during the first few weeks away from home. The also make new and lifelong friendships with their students." she added.
Both were nominated for this award by the first year students they are Peer Guide to. Joe was nominated as he was extremely welcoming and would try his hardest to find out any questions and sort out any problems. One student, who nominated him, said "I know I wouldn't have made it through the first year without the help I've been given by him."
On receipt of his award, Joe said: "I wanted to become a Peer Guide because I wanted to help the first years to make sure they felt settled, as in my first year I had a rocky start and I didn't want anyone else to have that kind of experience. I'm really proud to be part of the Peer Guide scheme which originated at Bangor and being part of a group that cares about students, the course and Bangor. It's all been an excellent experience."
Victoria was nominated as she has encouraged students to join clubs and societies, gave students the confidence to explore and make the most of Bangor and is always in contact throughout the year. She has communicated with students many times before they came to Bangor and answered lots of questions they needed help with before moving arriving. One nominator mentioned that "during exams she checked I was OK and told me of areas I could get extra help from."
Delighted with her award, Victoria said: "Some peer guides took me in during my first year at Bangor, and I wanted to become a part of that. Our school is so close; I love being able to join in activities meeting all the first years and keeping in touch with them throughout the year."
Publication date: 1 May 2014