Bangor University Bahrain Celebrates Graduation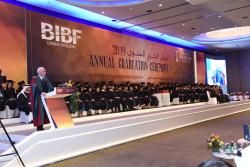 Congratulations to 87 students who graduated at the Bahrain Institute of Banking and Finance (BIBF) recently.
The BIBF has a long-standing established partnership with the University, offering HE Diplomas, which are quality assured and validated by Bangor University.
The Bangor University graduate programme at BIBF is one of the most successful undergraduate programmes in Bahrain. A combination of the exceptional academic programme and the unparalleled learning environment at BIBF have lent to the success of the degree. Graduates are also favoured by the local banking industry.
At the annual graduation ceremony, representatives of top performing Banks in Bahrain presented the Bank Awards to outstanding students. The banks were Ahli United Bank, Al-Baraka Bank, Al Salam Bank, Arab Bank, BBK, and National Bank of Bahrain.
The Dean of the College of Business at Bangor University, Professor Andrew Edwards, presented the certificates in the presence of BIBF's Director, Dr Ahmed Abdulhameed Al Shaikh, key representatives from the financial sector, Bangor University officials, as well as parents and family members of the graduating students.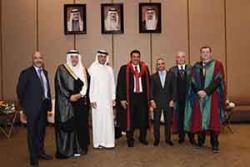 In his speech, Professor Andrew Edwards, marked his pride in the strong relationship between the Bangor and the BIBF that had strengthened over the past 15 years.
Celebrating this major milestone, the Director of the BIBF, Dr Ahmed Al Shaikh congratulated the graduates, advising them to approach the next phase of their lives with utmost professionalism and to apply the learned skillsets of their educational journey towards success in their professional careers.
Images:
Top: Prof Andrew Edwards addresses the audience
Bottom: From left: Faisal Janahi, Head of Banking & Accounting Centre BIBF; Dr Salman AlZayani, retired senior government official; Abdulhakeem AlKhayyat, CEO of Kuwait Finance House; Dr Ahmed Abdulghani, Director of BIBF; Ahmed Naeemi, Head Of Digital Transformation, Operations, & Project Management BIBF; Prof Andrew Edwards, Dean of College of Arts, Humnaities & Business and Prof Jon Williams, Head of the Bangor Business School.
Publication date: 25 September 2019