Bangor University brings significant European research funding to north Wales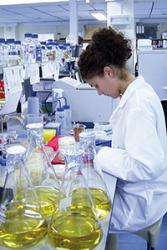 Research funding worth nearing £10 million has been levied by Bangor University researchers from the European Union research funding programme, and the University expects to improve on this results in the new European research and innovation programme.
Forty-two major pan-European research projects led by Bangor University academics were successfully funded, against stiff competition in FP7, the 7th Research Framework Programme of the European Commission, which ran from 2007 to 2013.
The replacement research funding stream, which has been going for a year, has seen the University topping previous applications for research projects, submitting bids worth over £15 million in the first year alone. A number of these bids are progressing well and the University is looking forward to the start of the first projects based on these submissions.
Professor David Shepherd, Deputy Vice Chancellor, explains the significance of this result:
"Bangor University staff are clearly collaborating with top research teams across Europe, and conducting work of international relevance and importance.
"Our staff are extremely good at winning these grants, the University's success rate across all of FP7 was over 30%, while the average success rate for the programme is around 19%. This result alone bears out the fact that the University is involved in high quality proposals and teams up with excellent partner institutions.
He continued: "2014 was the first year of Horizon 2020, the successor European Programme to FP7. Already the University has submitted more proposals than were submitted in the first year of FP7, and these add up to over £15 million. We look forward to continuing our successful engagement with this funding programme, which is of high priority with Welsh and UK governments.
"I would like to thank and congratulate all the staff who have worked hard at Bangor University to prepare these collaborative research bids. Our high success rate underlies the excellence and experience that we have among our staff."
The successful projects include an international project, Fishpoptrace, led by Professor Gary Carvalho at the School of Biological Sciences. The project developed measures to safeguard international fish stocks, by developing new ways of identifying caught fish from 'fresh' to 'fork', and enabling the authorities charged with enforcement and monitoring of commercial fisheries to be able to trace caught fish to their location of origin.
Another project from the School of Biological Sciences, MAMBA, was led by Professor Peter Golyshin. The international research and commercial partners involved studied marine microbes to assess the potential for extracting or producing fine chemicals, antioxidants and anti-cancer drugs.
Professor Guillaume Thierry at the School of Psychology won a highly prestigious grant from the European Research Council to bring his research group in a leading position in his field. His research project aimed to understand how the human brain constructs a meaningful representation of the world around us. The interdisciplinary project looked at this question from a developmental point of view in children aged 12 to 36 months, bilingual and monolingual adults presented with verbal and nonverbal information. One aim was to publish a minimum of 14 international standing publications, and, by the end of the project, 47 publications were registered as output.
Professor James Scourse of the School of Ocean Sciences is leading 11 partner organisations in research looking at what the growth rings of sea shells can tell us about historic climate changes. This project is training a group of specialist climate change researchers to PhD level.
Publication date: 10 December 2014