Bangor University celebrates Earth Hour
Bangor University is helping to build a brighter future by supporting WWF's Earth Hour, a spectacular and symbolic lights out event that focuses the world's attention on our planet, and the need to protect it.

On 28th March, at 8.30pm, we will be joining forces with thousands of iconic landmarks globally, from The Sydney Harbour Bridge to Times Square in New York, as they show their support. Earth Hour's unique display of darkness has become a global phenomenon with hundreds of millions of individuals coming together each year. In 2014, a record-breaking 162 countries and 7000 towns and cities joined the world's biggest celebration for our planet.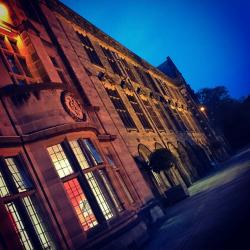 Photo taken by Ishaq Madan

Last year in Wales, it's estimated that over 400,000 people took part, sending out a united message of support. Participating Welsh landmarks included the Senedd in Cardiff Bay, Caernarfon Castle, The National Library of Wales in Aberystwyth and Newport Transporter Bridge. They were among 200 of the UK's most iconic landmarks to plunge into darkness, alongside Big Ben and Edinburgh Castle. 235 Welsh schools signed up and Welsh Assembly Members from all parties showed their support.

To celebrate Earth Hour 2015, we will be switching off the floodlighting on our iconic Main University Building at 8.30pm on 28th March for the hour, and encouraging staff and students to join in by taking what action they can.

"We are proud to take part in Earth Hour and are excited to be involved with such a great and inspiring event. Everyone can make a difference to help protect our planet and we all have a key role to play," said Ricky Carter, Bangor University's Environmental Manager.

Anne Meikle, Head of WWF Cymru, said,
"We're thrilled that Bangor University will be taking part in Earth Hour this year and hope that this will inspire many others to get involved. By taking one simple step to switch off, you'll be joining millions of people from around the world in this special celebration."

Everyone can sign up for WWF's Earth Hour 2015. For more information and to sign up please visit wwf.org.uk/earthhour


Publication date: 24 February 2015