Bangor University Celebrates Graduation Week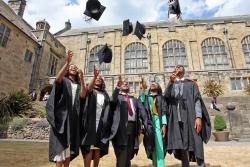 Staff and students at Bangor University are celebrating another week of Graduation ceremonies at the University this week (15-19 July 2019).
The University will be welcoming students' friends and families to ten Ceremonies over five days to mark the achievements of the University's new graduates.
Also being welcomed to the University are ten individuals who are receiving Honorary Fellowships from Bangor University. Honorary Fellowships enable the University to rewards individuals who have made significant contribution in their chosen field. Fellows are chosen from among those who work within Wales or have a link with the University, and they will join individual ceremonies throughout the week.
Professor Graham Upton, Interim Vice-Chancellor at Bangor University commented:
"The University's Graduation Ceremonies are a culmination and celebration of a great deal of hard work for the graduating students. As staff at the University, we delight in seeing the achievements of our students, and how each has grown in different ways along their personal journey of education and experience. We hope that the learning, skills and the friendships that they have forged at Bangor University will stay with them throughout their careers and into the future."
He added:
"I am delighted that Bangor University is rewarding and marking the significant contributions made by our new Honorary Fellows. Each has made valued contributions in the arts, business academia or our wider society, and their achievements are to be celebrated. We hope that they serve as an inspiration to our graduating students, encouraging them to strive to achieve their goals, whatever they may be."
The Honorary Fellows are:
Catrin Stevens, a freelance writer who has contributed to Welsh life through her published works, activism and commitment to the Welsh language and culture.
Karin Lochte, an alumnus who is renowned for her commitment to international marine science and specifically her leadership roles at the Alfred Wegener Institute and, most recently, her membership on the NERC Council;
Professor Liao, an academic who demonstrated a passionate commitment and service to higher education including internationalisation of education at the Central South University of Forestry and Technology, Changsha, China and Bangor College China;
Angela Gardner, who has demonstrated a passionate commitment to her profession and specifically to identifying and developing executive talent, and who has also made a significant contribution to furthering diversity in the workplace;
Chris Roberts, a pioneer and an advocate in the citizenship movement within dementia and a leading figure in the UK and internationally who has established a series of innovative initiatives across both the local and international communities of people living with dementia;
Rhian Davies, a Bangor graduate who, throughout her career has demonstrated a passionate commitment and service to her profession, most recently through her leadership of the Gregynog Festival and her restoration to the repertory of the composer Morfydd Owen;
Judge Meleri Tudur, a Deputy President of the Health Education and Social Care Chamber of the First-tier Tribunal; Judge Tudur has responsibility for the Special Educational Needs and Disability, Care Standards and Primary Health Lists Jurisdiction within that Chamber.
Elan Closs Stephens DBE, who has demonstrated a passionate commitment and service to the creative industries, especially in Wales, most recently through her membership on the BBC Unitary Board where she represent the interests of Wales;
Prof Gareth W Jones has enjoyed a long association with the University as a student and researcher under Professor Charles Evans, as a lecturer and one of the founders and leader of the Centre for Arid Zones Studies at Bangor;
and Arthur Edward (Johnny) Johnston, an alumnus and internationally-acclaimed expert, whose contributions throughout a long career have been critical to the understanding of basic processes in soil fertility and crop nutrition, providing much of the basis of soil quality and sustainable agriculture research.
The University is keen to stay in touch with its large alumni community of graduates who span the globe. In recent years, the University has presented an Alumnus of The Year Award to recognise the achievements, both professional and personal, of the University's graduates, highlighting those who have chosen to remain engaged with their alma mater and give back, either through service, philanthropy, or, in some cases, both, to the University. This year's Award will be presented to Frankie Hobro, owner of Anglesey Sea Zoo, who gained her MSc in Marine Environmental Protection from the School of Ocean Sciences. The Anglesey Sea Zoo and Marine Resource Centre is an environmentally managed education and research facility, as well as a tourist attraction.
Access the University's Graduation News and profiles here: https://www.bangor.ac.uk/graduation/news/
Publication date: 14 July 2019