Bangor University dominates Snowdonia Marathon Eryri
Bangor University dominated the Snowdonia Marathon Eryri with a current student winning the Women's category and a local graduate winning the Men's category.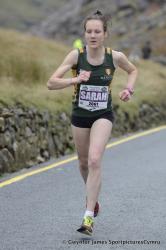 Sarah CaskeyBangor University student, Sarah Caskey, 23, was the first woman to cross the finish line at the gruelling Snowdonia Marathon Eryri recently.
Sarah, a second year undergraduate student at the School of Sport, Health and Exercise Sciences, emerged victorious, completing the 26 mile route in 3 hours 12 minutes and 06 seconds.
Elated after her win, Sarah said "I was impressed by the inspirational atmosphere, support and organization as well as the spectacular scenery. I have been looking forward to this event for months and the experience truly exceeded my expectations."
"I chose to study at Bangor University because of the mountains and would like to take up trail and fell running. Wales is also my favourite part of the UK because of its outdoor activity range and stunning scenery."
After graduating Sarah hopes to become either a PE teacher or physiotherapist.
A keen runner, she also came first in the Twin Piers 10k race at Llandudno and second in the Conwy Half Marathon during the last 18 months. Back home in Peterborough, Sarah also runs for the Peterborough Athletics Club and Blackburn Harriers.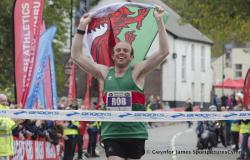 Rob SamuelThe School of Sport, Health and Exercise Sciences attracts and supports prize winning athletes who study the theoretical side to their sport. Graduate Rob Samuel, and former Athletic Union President won the men's race in the Snowdonia Marathon Eryri for a third time in a row. Rob is currently events manager for Always Aim High Events, a local company who organise events such as the Slateman triathlon and Etape Eryri.
Dr John Parkinson from the School of Psychology was also the first Welsh Veteran over the finish line with a time of 2:54:15, making him 12th overall. He is affiliated to the Welsh Athletics Association and a member of local club Eryri Harriers.

Dr Parkinson said: "Marathon Eryri is a fantastic race over a spectacular and beautiful course, certainly one of the best marathons in the UK. I can't think of a better and more enjoyable place to run. My research in the university focuses on motivation, health and wellbeing – so running is a great way to practice what I preach!"

Fellow Eryri Harrier Arwel Lewis, Security Coordinator at the University, was also first in the male over 55 category. He has taken part in the race ten times since 1988 and he was second overall 25 years ago with a time of 2:35:06.



Publication date: 30 October 2013