Bangor University flies Pride flag today!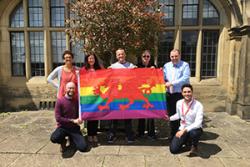 Bangor University welcomes students and staff from all backgrounds, origins, beliefs and sexual orientations. And we are proud of it!
50 years ago, on 28th June 1969, the Stonewall Riots took place in New York City. These were a series of spontaneous, violent demonstrations by members of the LGBT community in response to increased harassment and hostility by the police, and are widely considered to constitute the most important event leading to the gay liberation movement and the modern fight for LGBT+ rights. The month of June was chosen for LGBT+ Pride Month to commemorate the Stonewall riots, and this year Bangor University is flying the Pride flag to mark this important historical event and to celebrate the University's pledge on Equality and Diversity.
The day also marks the official launch of the University's Griff Vaughan Williams LGBT+ Network for staff and post-graduate students. The group has been created to provide a forum for networking and a means of support on LGBT+ matters, as well as to increase the visibility of LGBT+ issues in the workplace and in different Colleges at University.
Andrew Walker, co-lead for the new network said: "The network has been named in honour of Griff Vaughan Williams, a passionate advocate for the rights of LGBT people. Griff was described as a powerful gay voice, devoted to truth and equality. He was born in Bangor in 1940 and he died in 2010. We want to honour his memory with this new network and ensure that Bangor University continues to strengthen its commitment to equality and inclusivity for LGBT people."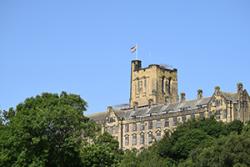 The new Network believes this day will become a milestone for the University and the local area in regards to LGBT+ integration. As celebrated by Pro Vice-Chancellor of Welsh Medium & Civic Engagement, Professor Jerry Hunter - "I am very proud of the fact that the Pride flag can be seen atop Bangor University's main building. It is an obvious external sign of everything which is happening internally in the University to ensure that our community is inclusive. One of the most exciting aspects of this is the launch of the Griff Vaughan Williams LGBT+ Network – which will help ensure that LGBT+ issues receive the attention they deserve throughout the year."
The Griff Vaughan Williams LGBT+ Network hosts bi-monthly meetings and if you would like to get involved or share any ideas please contact andrew.walker@bangor.ac.uk
Publication date: 28 June 2019