Bangor University graduate presents for the BBC Natural History Unit
Dr Ross Piper, 37, who studied Zoology and Animal Ecology at Bangor University, recently returned from a six week expedition in Burma, during which he was working as a presenter for the BBC Natural History Unit. The three-part series will be broadcast on Friday November 29th on BBC2 at 9pm.
The BBC has already released some web exclusive clips to entice viewers.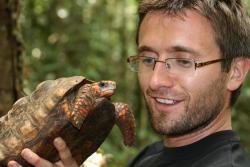 He has also just released his latest book, Animal Earth: The Amazing Diversity of Living Creatures, which is an "unbiased exploration of animal diversity illustrated with stunning photos."
Ross, who is originally from Redditch and graduated from Bangor in 1998, said: "When I was working on my latest book I had some ideas for a natural history programme so I got in touch with the BBC Natural History Unit down in Bristol. I was invited down for a chat, which ended up being a screen-test.
"The short show-reel they put together caught the eye of a series producer who was planning an expedition to Burma and I ended up going as one of the presenters and it was brilliant! For someone like me, life just doesn't get any better than that– searching for creatures in tropical forests"

About his time in Burma, he added: "It was a very tough six weeks. Lots of physical stuff - long hikes with loads of gear, climbing trees and talking for hours every day. We shot around 300 hours of footage for three one hour long episodes, so the vast majority of what you do isn't used in the final cut.
"There's so much planning and other work that goes on once the cameras have stopped rolling. It was a mammoth operation. The logistics of getting everyone to some really remote places was very difficult and we were observed the whole time by Burmese officials so that we didn't stray from our approved itinerary. I've got a lot of respect for the people behind the scenes who put it all together.
About his book, Ross said: "I've been fascinated by animals for as long as I can remember. When you start studying zoology in detail you realise that animals are fantastically diverse, not only in the way they look, but also in the way they live. I wanted to show people in a scientifically up-to-date way and with loads of amazing images that animals are so much more than all the stuff you see on telly. Animals are beautiful and bizarre in equal measure!"
About Bangor, Ross added: "The best thing about Bangor was the proximity to such varied habitats and animal-life. There were also some inspiring and encouraging staff in the School of Biological Sciences."
To find out more about Ross, visit his website www.rosspiper.net/
Publication date: 14 November 2013