Bangor University Graduate Scoops a Top UK Award
A Bangor University graduate recently picked up a prestigious 'Best Student Award' by The Institute of Chartered Foresters (ICF). Joseph White, 21, from Aldershot, Hampshire graduated recently with a BSc Forestry degree, and was presented with the prize at his graduation ceremony by Antony Griffiths, who represented the ICF.

A former pupil at the 6th Form College Farnborough, Joseph is a keen sportsman and was particularly good at football playing at a relatively high youth level. He had some trials at semi-professional clubs and wondered if he could do that for a career but ultimately decided that wasn't a career path for him.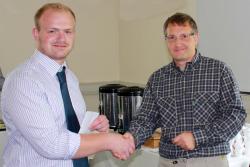 About his background, Joseph said: "I was relatively smart at school, particularly in mathematics where I was in various advanced classes and attended regional 'competitions'. I was also proficient at the sciences.

"After school I attended college studying physics, maths, ICT and resistant materials with a view to going to university to study to become a quantity surveyor. The reason I wanted to do this was because I was good at maths however after a year or so of studying maths I realised that, although I was good at it, I didn't really enjoy it so I started looking for other degrees which my A levels would allow me to study and most importantly, something I thought I would enjoy. Although I had no previous knowledge or experience of it, forestry stood out as I like nature and the outdoors.

"I looked at all the institutions that offered a forestry degree and from those Bangor stood out as its location was perfect for me to enjoy some of my hobbies, such as walking, fishing and general outdoor stuff."

Joseph was Vice-president of the University's Forestry Society during his second year, and about his highlights at the University, he said: "The forestry tour in the second year where we visited various forestry sites in Scotland, England and Wales on a weeklong trip was definitely a highlight of my time here in Bangor. During the trip we observed all sorts of types of forestry, from urban to commercial and recreational. It was an insight into the working processes of the industry and gave us some extra practical knowledge which really helped. Also it was a great laugh going away for the week with all my mates on the course."

About his future, Joseph said: "I hope to get a job in the industry soon and progress my career forward. I also have a dream to spend some time working in New Zealand which hopefully this degree may facilitate."

Regarding winning a prestigious national award, he said: "It feels excellent and it came as a great surprise. I won it for the improvement that I showed in my final year and I suppose that is reflective of the extra time and effort I put in in the final year. I'm very grateful to those who nominated me and I hope the award can help me in my future career."

Publication date: 13 August 2013