Bangor University graduate spends time reporting on Chile's fisheries management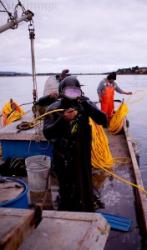 Andrew Frederick Johnson, 29, graduated with a PhD in Marine Fish Ecology from the School of Ocean Sciences this year. He then went on to win a Vodafone World of Difference Scholarship to work on acoustics of whales and dolphins, before he was funded by the Winston Churchill Memorial Trust to travel to Chile for two months to report on their fisheries management scheme.
Andrew, originally from Suffolk, said: "I found out about the Winston Churchill Memorial Trust (WCMT) scholarship through friends when I was younger - but was too young to apply. I didn't want to finish my PhD and move straight into a post doc and I wanted to go away to learn something new so I applied for a WCMT.
"I learnt a lot just through the application process, it was like tendering for a contract in many ways - you have to win a pot of money although you are competing with a whole diverse pool of people and skills. It was tough as I was applying during my final four months of PhD."
About his time in Chile, Andrew said: "I spent a lot of time driving as it's a long country - even though I only covered half! Discovering small fishing communities inside all the rocky nooks and crannies of the steep coastline was most certainly a highlight.
"Friendly fishers and grumpy poachers made it a very interesting experience and an adventure to say the least. I would happily go back to work in Chile again.
"The most interesting person I met was an old scallop diver who was still working on the boats at the age of 76. The only reason he was not diving was because he wife would not let him anymore...otherwise he would have spent his whole day in there!"
About the future, Andrew added: "I am currently enjoying the freedom my PhD has given me and working around the globe, but I would like to continue my research and undertake a post doctoral fellowship in Marine Fish Ecology and Marine Conservation."
About Bangor, he said: "Bangor has good lecturing teams, great facilities, such as the Prince Madog vessel, and the location is brilliant - sea, rock and wilderness all very close together. You can experience nature so easily and readily and for me, with my studying, it made my weekends an extension of my work and passion."
Read Andrew's blog http://afjimage.wordpress.com/
Publication date: 19 December 2013