Bangor University helps depositor protection and financial stability in Nigeria and across Africa
The Nigerian Deposit Insurance Corporation visits Bangor University.
Bangor University are very proud to have hosted a visit from the Nigerian Deposit Insurance Corporation (NDIC).
The NDIC, established in 1988, is an independent agency of the Federal Government of Nigeria with the stated purpose of maintaining financial system stability, protecting depositors and guaranteeing the settlement of insured funds. The Corporation has made significant strides in recent years becoming a beacon of good practice across Africa and providing guidance and training for many other deposit insurance corporations across the continent.
In the past 5 years over 120 NDIC employees have or are currently taking the Chartered Banker MBA programme at Bangor University. The Chartered Banker MBA provides a unique dual award of a Bangor MBA together with a professional Chartered Bankers designation from the Chartered Bankers Institute and the Chartered Bankers Institute of Nigeria. Since its inception in 2011, over 1000 students from 82 different nations have completed or are studying on this dynamic and innovative Chartered Banker MBA.
Commenting on the visit, Professor John Ashton, the Programme Director for the Chartered Banker MBA, commented. It is a privilege to host senior management from the Nigerian Deposit Insurance Corporation. At Bangor University we recognise the excellent work undertaken by the Nigerian Deposit Insurance Corporation both in Nigeria and across Africa. We aim to support and assist learners from the NDIC many years into the future."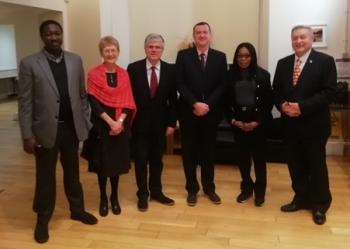 From left to right. Mansur Yusuf Gwadabe (Deputy Manager, Human Resource Department, NDIC), Mrs Davies, Prof Iwan Davies, (VC, Bangor University), Professor Jon Williams (Bangor Business School), Hon. Omolala Ambiola-Edewor (Executive Director, Corporate Services, NIDC) and Stephen Jones (Bangor Business School).
Publication date: 21 November 2019