Bangor University Honorary Fellowships 2014
UK newsreader, an opera singer and an international rugby player were among the individuals joining Bangor University's new graduates to receive Honorary Fellowships from Bangor University during this summer's Graduation ceremonies (12-18 July).
Bangor University awarded twelve Honorary Fellowships in all, and these took place during different ceremonies during the week.
The individuals were:
Professor Andrew McNeillProfessor Andrew McNeillie
Andrew McNeillie, Emeritus Professor of English at Exeter University and former Literature Editor at the Oxford University Press, was born and brought up in Colwyn Bay and Llandudno. He founded the Clutag Press producing the work of poets such as Seamus Heaney and Geoffrey Hill. He was be presented for an Honorary Fellowship for services to publishing by Prof Tom Corns, School of English.
Commenting on receiving his Honorary Fellowship Prof Andrew Mc Neillie said:
"It's really quite a moving thing for me and the last thing I would have ever expected when I was growing up as a small boy in Old Colwyn. To come to Wales and be honoured here means very much. I have written quite a lot about my Welsh childhood and it's as important to me as to anyone else born in Wales. To be here is a special day for me and being at Bangor, well I've had an involvement with the School of English over quite a few years, is also a very special and important thing in my life."
Huw Edwards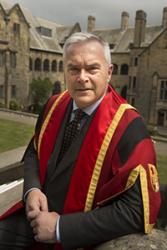 Huw EdwardsThe BBC newsreader and presenter will be presented for an Honorary Fellowship for services to journalism and broadcasting by Dr Andrew Edwards, Dean of the College of Arts & Humanities.
Huw Edwards said this of the occasion:

"Receiving an honour is always a pleasure, but receiving an honour in Wales is an even greater pleasure, and of course, in the case of Bangor University, which has a long tradition of promoting Welsh over many decades, it's an honour for me to be here, and I'm grateful to the University for offering me this honour, which I will always be pleased to have received."
Dei Tomos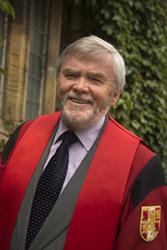 Dei Tomos.A BBC Radio Cymru presenter whose early morning farming bulletin has run for 25 years. Former Coleg Normal student, Dei Tomos was presented for an Honorary Fellowship for services to Welsh broadcasting by Ms Marian Wyn Jones, member of the University Council.
Commenting on receiving the Award, Dei Tomos said:
"Naturally, this is an honour. It's a recognition of one's work over a great number of years, and an acknowledgement, perhaps, that one has done something useful with their career. As the son of a quarryman, I also recall how the University was established by the quarrymen, and the contribution from their meagre wage, and that is also something important to bear in mind."
David & Alison Lea-Wilson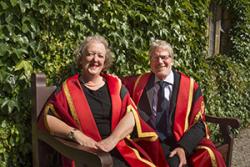 Alison and David Lea-WilsonFounders of Anglesey Sea Zoo and of Halen Môn; both are local entrepreneurs who have a long association with the University. Both will be jointly presented for an Honorary Fellowship for services to business in North Wales by Professor David Shepherd, Pro Vice- Chancellor, Research & Enterprise.
On receiving the Honorary Fellowship, David Lea-Wilson said:
"We feel humbled because we've been living and working here for thirty-five years and we've really appreciated what the University has done for us. I've been in touch with three different schools; Business and Economics from where I graduated, but also the marine biology world, when we started the Sea Zoo and then latterly the Chemistry department, who gave me some absolutely pivotal advice, starting Halen Môn. I'm so honoured that somebody is saying, yes, absolutely, you've achieved something. It's been a successful collaboration between a university and a small local business or two and I'm extremely grateful."
Alison Lea-Wilson added:
"I am absolutely amazed that we've been given this honour. We came as penniless students in 1976 and we have enjoyed the resources and environment of Wales, we've loved its people, its environment and its culture and it's given us a lot and we've tried to give something back in return by starting our businesses here, but we'd never have done it without the support of the community.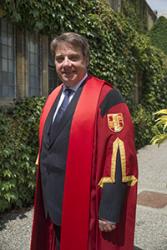 Professor Ed HilProfessor Ed Hill
Prof Ed Hill is Executive Director of the National Oceanographic Centre, Southampton University and a former postgraduate student and member of staff at Bangor. He will be presented for an Honorary Fellowship for services to marine science by Prof John Simpson, School of Ocean Sciences.
Professor Ed Hill said;
"I'm delighted and very honoured to receive an Honorary Fellowship from Bangor University, a university with which I've had a long association, first as a post graduate student then as member of staff. Bangor has a very strong reputation in marine science and is noted worldwide for the excellence of research and quality of its graduates."
Professor Donal T Manahan
P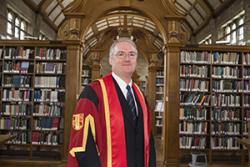 Prof Donal T Manahan.rofessor Donal T Manahan is Professor of Biological Sciences, University of Southern California. He is an expert on environmental physiology and adaption of marine animals, and has served as chief scientist for over 20 scientific expeditions to the Antarctic and one of a few individuals to have a peak named after him (Manahan Peak is a prominent mountain in northeastern Ross Island, Antarctica). A PhD graduate from Bangor, Prof Manahan will be presented for Honorary Fellowship for services to science by Prof Chris Richardson, Head of the School of Ocean Sciences.
Professor Manahan said:
"I'm so honoured to be an Honorary Fellow, this University played such a transformative role in my life and my education and I think really, in many ways, this was the start of my career, so to come back and be recognised for my work over the last twenty or thirty years is an incredible Honour and I'm so pleased to be here.
Asked what advice he had for the new graduates, he said: "My advice is going to be pretty simple today, I'm going to remind them that their education, in the 21 Century, is as important as any other possession they will have and to really focus on a couple of key things; to think locally, really be broad in their perspectives, but to never ever forget where it started for them at Bangor University."
Beti George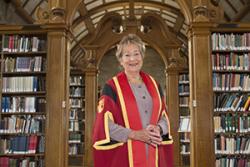 Beti GeorgeA renowned Welsh language TV newsreader and broadcaster for 30 years, Beti George will be presented for Honorary Fellowship for services to to Welsh broadcasting by Lady Wigley, member of the University Council.
Commenting on receiving the Honorary Fellowship, Beti George said:
"I know it's a cliché to say that it's an honour, but it is an honour, a great honour really. I'd never have thought that I'd be an Honorary Fellow of Bangor University. Of course, to me, Bangor was the old enemy of the Inter-College Eisteddfod- and here I am a fellow! I can't believe it."
She added:
"The advice I'd offer to graduating students is to appreciate what they have experienced here and how privileged they are really, that they've received their education from an institution such as Bangor University. The University is renowned world-wide these days, and in my recent experience, their work with dementia is the thing that has struck me, along with the excellent work in the community, that connection is an incredibly valuable one to me personally."
Professor Robert Owen Jones OBE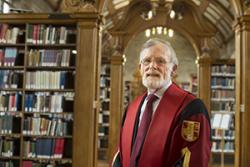 Professor Robert Owen Jones.A retired Professor of Welsh from Cardiff University, Professor Robert Owen Jones OBE is a Bangor graduate who began his academic career at Bangor – 9 years in the Linguistics Department. He was awarded an OBE in 2012 for promoting and revitalizing the Welsh language in Patagonia. He will be presented for Honorary Fellowship for services to the promotion of the Welsh language in Patagonia by Prof Peredur Lynch, Head of the University's School of Welsh.
Prof Robert Owen Jones said:
"I feel humble to be honest, and feel extremely grateful, because I was a student here. This is where I learnt the skills that have enabled me to follow my career. It was this College (as it was then) which enabled me to visit Patagonia for the first time in 1971 and awarded me a sabbatical year as a young lecturer in 1973-4 to conduct my major research work, so my debt to Bangor is great, and I feel that my career would not be as it has been without the skills and opportunities I gained here. Because of this I am delighted that the College which taught me is recognising that my skills have been worth while after all."
My advice to new graduates would be to set goals and to strive to achieve those goals. They have learnt the skills- use them- that would be my advice."
Rhys Meirion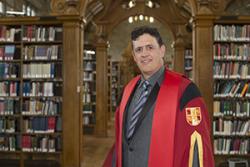 Rhys Meirion.Welsh opera singer Rhys Meirion has enjoyed international success; born and brought up in Tremadog, Gwynedd; he worked as a teacher before deciding to study at the Guildhall School of Music, London; as Company Principal with English National Opera (2001-04) he sang most of the leading tenor roles. Days after completing his third charity walk through Wales, he will be presented for Honorary Fellowship for services to music by Dr Chris Collins, Head of the University's School of Music.
Rhys Meirion commented:
"It's an honour, of course, to receive an Honorary Fellowship, especially from one of Wales' premier universities, here in Bangor. It's a great feeling to realise that someone appreciates your achievements; it gives you greater encouragement to take further steps forward. It's a 'pat on the back'"
Talking of steps, Rhys Meirion commented: "The University originally offered for me to come on Monday, but I thought it might be difficult to walk on stage after the Cerddwn Ymlaen walk. I'm glad I've had a few more days to recover, though the feet are now on the mend and I had an amazing 10 days with some incredible people."
"My word of advice to today's graduates is that life is all about opportunities. I have had the opportunity to sing and perform. It's important to take advantage of these opportunities when they come to you. These students are graduating today, and opportunities will come their way, my advice is to grab those opportunities with both hands and go for it!"
Professor Jean White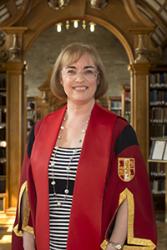 Professor Jean WhiProfessor Jean White has been Chief Nursing Officer for Wales since 2010 and has made a significant contribution to the health and professional agenda in Wales and internationally; she has also been an excellent supporter of the work of Bangor University's School of Healthcare Sciences. She will be presented for Honorary Fellowship for services to nurse education by Prof Jo Rycroft Malone, Head of the School of Healthcare Sciences.
Commenting on receiving an Honorary Fellowship, Professor Jean White said:
"I'm hugely honoured; I feel somewhat humbled actually, that I, as a nurse, should be recognised by the University in this way. I'm overwhelmed by this honour and hugely grateful to the University for doing this."
"I overwhelmed by how this wonderful University is able to motivate and create such high quality students and high quality health professionals that are going to go out into the world and provide quality care. I feel the University has instilled a real sense of values within the students and this can only benefit the public that they go on to serve as health professionals."
Professor White added:
"I'd like to wish the graduating students the very best of luck with their careers. They are taking a very important first step into a professional lifetime that I have certainly benefited from in my career and I hope and expect great things from them. They've had a great start in this University so I expect them to do great things in their professional careers."

George North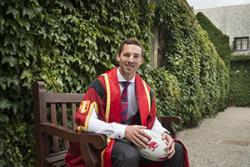 George NorthWales & British & Irish Lions rugby player George North needs little introduction; brought up on Anglesey and a former pupil of Ysgol Bodedern; he was the youngest player ever to score a try on his debut for Wales. He will be presented for an Honorary Fellowship for services to sport by Prof Tim Woodman, Head of the School of Sport, Health & Exercise Sciences.
George North had this to say:
"First of all can I say thank you for the massive honour and privilege, there's a great list of people who've received the Honour before me and it's an honour and a privilege to be here today."
George had these two tips to share with future rugby stars: "You've got to keep on enjoying your rugby, when you enjoy it, you'll push yourself harder and train for longer- also keep going, never give up until the end because you only get one chance."
Professor John G Hughes, Vice-Chancellor of Bangor University commented:
"Bangor University is strongly grounded within its community and we're delighted to be able to acknowledge the valuable contributions made by these individuals in their chosen fields. They have made a vital contribution to Welsh life or have a strong connection with Bangor University.
Publication date: 16 July 2014