Bangor University make it through to the semi-finals on University Challenge.
Bangor University are now through to the semi final round of University Challenge, in the 50th anniversary series of TV's most challenging quiz show. Bangor university take on the University of Manchester on Monday April 22 at 8.00 pm on BBC 2.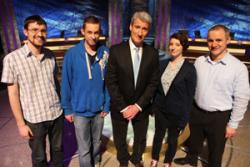 Bangor University Students' Union President Antony Butcher said "It's absolutely amazing! It's over 10 years since Bangor last made the semi-finals, and I couldn't be more proud of our team. Our team have proven themselves on TV's toughest quiz show, and have proved they are one of the top 4 in the country. Can they go further? I'm sure Bangor will be joining me in watching to find out!"
In the programme, broadcast on Monday 8 April , Bangor University stormed to victory against King's College, Cambridge University.
Team Captain Nina Grant said: "The whole experience has been brilliant. We had no idea when we started out that we'd get this far, but I think we have a wide range of knowledge among the team members."
Bangor University's University Challenge Team are: Team Captain, Nina Grant, (French & Linguistics); Simon Tomlinson, (Psychology); Mark Stevens, (Environmental Science); Adam Pearce (Translation Studies) and Team reserve, Catriona Coutts.
Publication date: 4 April 2013