Bangor University: making a difference in Welsh language healthcare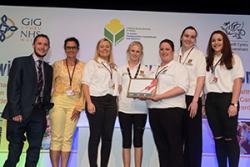 Being congratulated by panel Judge Dr Dai Samuel are nursing students and Language Champions: Elin ROberts, Elin Bryfdir Jones, Hannah Ward, Bethan Edwards and Mared Parry.Ground-breaking work to extend and improve the use of the Welsh language in health and social care has been recognised with Awards to Bangor University in two categories.
The Awards were made at the Welsh Language in Health, Social Services and Social Care Conference and Awards. The Awards raise awareness of the importance of the Welsh language in the health and social services sectors in particular when dealing with patients, their families and the public.
An innovative scheme to encourage the use of Welsh in healthcare services has been developed and applied at Bangor University's School of Healthcare Sciences. Having received tailored training and support, six students are the first to become Welsh Language Champions. Having received support and training the six, who will be joined by others, will be able to encourage their peers to use Welsh and to identify and encourage new developments in the Welsh language for patients and service users throughout their careers.
Project team member, Sharon Pierce, said: "Welsh Language Champions need to be encouraged in all areas- and especially in healthcare. It is particularly important that we encourage nurses at the start of their career and support them to have the self-confidence to question and encourage others."
The project which received an Award for education and training in the workplace which increases ability and confidence to deliver services in Welsh category, received funding from the Coleg Cymraeg Cenedlaethol.

The second Award for Work with priority groups: mental health service users was given for the translation and adaptation of a cognitive assessment toolkit for Welsh speakers. The toolkit means that Welsh speakers with dementia can now be assessed through the medium of Welsh to identify their needs and plan for best care.
This work was sponsored by Health and Care Research Wales (Ymchwil Iechyd a Gofal Cymru).
The project is part of a wider programme of work undertaken at NWORTH (North Wales Organisation for Randomised Trials in Health and Social Care) by LLAIS (Language Awareness Infrastructure Support Group) that promotes opportunities for using the Welsh language in health and social care research across Wales to meet the needs of bilingual speakers. Gwerfyl Roberts, Director of LLAIS said:
"English has being the predominant language in the health service, but a move towards person-centred care recognises the importance of providing care and information in a person's first language. To make that happen, we need to provide staff with the toolkits and training to be able to deliver those services. As well as providing practical assistance in Wales, LLAIS also makes an important contribution towards the evidence that informs bilingual provision in health and social care."
Prof Jo Rycroft- Malone, head of the School of Healthcare Sciences added: "I'd like to congratulate these teams for conducting research and teaching which has a real impact and a positive effect on the delivery of health services in Wales and on the experiences of those service and care users in Wales."


Publication date: 8 July 2015