Bangor University opens doors to neighbours and the community for Universities Week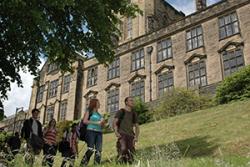 Next week, (9-15 June 2014), universities across the UK are opening their doors to the public and demonstrating the impact that university research has on all our lives.
Bangor University is getting involved in the annual Universities Week campaign and has activities during the week enabling people to step inside the University.
Bangor University's Vice-Chancellor Professor John G Hughes said:
"Universities play a vital role in society and at Bangor University we have a long tradition of making a valuable contribution to our local community and also to the world at large, across a broad spectrum of activity. We have a reputation for breaking new ground in scientific research as well as in the arts and humanities; we are involved in business innovation and in improving people's health and wellbeing; and we provide our students with the knowledge and skills required to tackle the challenges of the future."
The University's Research Station at Henfaes farm in Aber is opening the 'farm gate' on Thursday 12 June from 2.00 so that people can sample the research work that helps us both look after the environment and make the best use of our agricultural landscape.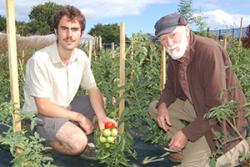 Projects on show include developing outdoor grown tomatoes, investigating whether the compost that councils produce from garden waste could be used to grow potatoes, how daffodils are being used to treat Alzheimer's Disease and why bees don't always sting. The event is easily accessible. Prospective visitors can find out more by e mailing alison.evans@bangor.ac.uk or calling Henfaes Research Station on 01248 382281.
With over 2,000 staff living in the surrounding communities around Bangor, the University has created a new opportunity for people to visit. Many people may not have had the opportunity to step inside the University buildings, so the University's 2,000 staff members have been invited to bring a neighbour to the University to take part in some learning.
This taster series has been arranged by the University's Widening Access Centre.
The programme includes a variety of new technology and language taster sessions as well as a Mindfulness meditation taster session and a guided tour of the University's buildings and the University's Natural History Museum.
Delyth Murphy of the University's Widening Access Centre said:
"We thought that offering an opportunity for people to come into the University accompanied by a member of staff provided a friendly experience. It also enables the neighbours to access some activities that they might find useful for their own work or leisure interests. We've had a great feedback and interest in the learning opportunities that the University offers, and are planning similar opportunities in the future."

Other University Week activities include a Start-Up Summer School on 10-11 June for would-be entrepreneurs. This is offered to further and higher education students in north Wales by the University's B-Enterprising team any vacancies will be available for members of the public, 'taster sessions' and 'Business Breakfasts'. Full details are available on the Universities Week mini site.
Publication date: 30 May 2014