Bangor University Professor features in Documentary presented by Sir David Attenborough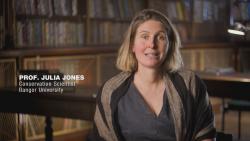 Prof Julia Jones appearing on Extinction: The FactsLast year a UN report revealed that around one million animal and plant species are threatened with extinction. A new BBC programme, Extinction: The Facts, goes beyond the emotional to investigate what biodiversity loss and extinction mean - not just for the planet but for us as a species.
Julia Jones, Professor of Conservation Science at the School of Natural Sciences, featured among some of the world's leading scientists in this programme presented by Sir David Attenborough.
The programme reveals how this crisis has consequences for us all, threatening food and water security, reducing our ability to control our climate and even putting us at greater risk of pandemic diseases. It explores what is happening to the natural world - how human activity drives extinction and why we haven't acted sooner to stem these losses. With the world at a critical turning point Extinction: The Facts asks what governments, industries and we as individuals can now do to change our course.
Professor Julia Jones said:
"I was delighted to be a small part of Extinction: The facts. The programme makers did a brilliant job of explaining just how bad things are for our planet's biodiversity, why this matters to each and every one of us, and what needs to change. The programme beautifully explains how interlinked our natural world is and that we are part of that system.
"This is a hugely important and surprisingly radical programme which makes us confront difficult realities: that biodiversity loss around the world is linked to our own over-consumption. It illustrates perfectly that conservation science is an interdisciplinary topic requiring an understanding of zoology and ecology but also incorporating understanding of economics, policy and law.
"I would encourage all our students and prospective students to watch the programme. It is the perfect introduction to the conservation courses we teach here at Bangor."
Sir David Attenborough received one of Bangor University's first Honorary Degrees in June 2009 to mark the University's 125th anniversary. Sir David's father studied at Coleg Normal in Bangor, and the family spent many family holidays in the area.
Extinction: The Facts, a one-hour documentary for BBC One, was broadcasted on Sunday 13 September, at 8pm.
It is available to watch on BBC iPlayer.
Publication date: 14 September 2020