Bangor University receives a glowing report by the Quality Assurance Agency
Bangor University has welcomed the findings of the Quality Assurance Agency's (QAA) Institutional Review which has commended the way the university manages academic quality.
Bangor University Vice-Chancellor Professor John G Hughes said: "Bangor is the first university to undergo a Quality and Enhancement Review, and we found it to be a very detailed and thorough review.
"The findings reflect the high academic standards that are to be found at Bangor, and we are clearly very pleased with the outcome and the report's findings."
The University received a number of commendations which highlighted particular areas of strength, including for the way in which Bangor uses a data-driven approach to inform and enhance the student experience.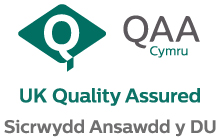 Other areas which received commendations were the University's deeply-embedded, extensive, and culturally valued partnership with students, and the fact that Bilingualism is embedded within, and positively impacts upon, all aspects of the student experience.
The QAA stated: "The University's approach to enhancing the student learning experience is effective, student-led and student-focused."
Professor Hughes added: "The report is a clear evidence of the excellent way that academic quality is managed at Bangor University, and I'd like to thank all of our staff for their outstanding efforts over the years in maintaining such high standards."
Publication date: 2 August 2018