Bangor University's Dr Yue shortlisted for prestigious Newton Prize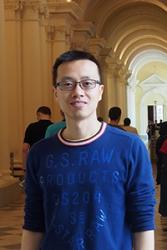 Dr Liyang YueDr Liyang Yue of Bangor University's School of Electronic Engineering has been shortlisted for the 2017 Newton Prize for his project building a super-resolution metamaterial 3D printing system.
The Prize is an annual £1 million fund awarded for the best research or innovation that supports the economic development and social welfare of developing countries. Dr Yue is in with the chance of winning up to £200,000 from the Prize to be used to advance or develop the work further.
The Newton Prize is part of the broader Newton Fund, which builds research and innovation partnerships with 18 partner countries to support their economic development and social welfare, and to develop their research and innovation capacity for long-term sustainable growth. It has a total UK Government investment of £735 million up until 2021, and each partner country provides matched funding and resources for every programme, making it an equitable partnership.
Dr Yue work on the development of new high performing metamaterials, which have the potential to transform telecom infrastructures and services, optical computing, solar energy and medical devices. Usage is currently limited by the manufacturing challenges involved. Dr Yue's project enables 3D metamaterials to be directly printed from 3D CAD models with higher design freedom and lower cost compared to conventional photolithograpy methods. Impacts of this work can be found in the Vietnamese telecommunications and photonics industries, as well as in the energy, environment and health sectors.
On receiving the news, Dr Yue said:
"I am very excited and honoured to be shortlisted for this prize. My Vietnamese partner and I spent nine months developing a micro/nano 3D printing platform in Bangor. These printed micro/nano structures can be used to fabricate an artificial electromagnetic metamaterial using 'exotic' properties which cannot be found in nature. This platform is a low-cost but powerful research tool for fundamental nanotechnology and photonics research in both countries, and a huge scientific impact could be expected from it in the future."
Dr Iestyn Pierce, Head of the School of Electronic Engineering said: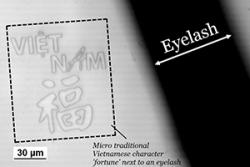 These characters placed next to an eyelash provide an example of the micro/nano printing technology."I'm delighted that Dr Yue's work has been recognised. Dr Yue's research is a fine example of the ground-breaking, innovative work being conducted at the University. We attract some of the best international-calibre researchers and teachers to our School and is another great example of our international partnership working."
More than 150 Newton funded projects, fellowships or other awards applied for the Newton Prize from the eligible countries for this year – India, Malaysia, Thailand and Vietnam. There are 25 shortlisted applications in total and five Prizes of up to £200,000 will be awarded to each winner to be used to advance or develop existing Newton funded work. There will be two winners in India and one in Malaysia, Thailand and in Vietnam.
The Newton Prize winners will be announced at celebratory award ceremonies held in each of the partner countries:
India – 1 November
Thailand – 8 November
Malaysia – 14 November
Vietnam – 16 November
The Minister for Universities, Science and Research Jo Johnson will also host a UK event in London in early December to celebrate the first year of the Prize and to announce the 2018 Newton Prize countries.
The Newton Prize aims to incentivise researchers to participate in the Newton Fund as partners with the UK, and to work on the most important challenges facing Newton countries. The concept for the Newton Prize has been developed to demonstrate how UK partnerships with Newton countries are solving global challenges.
Further information is available on the Newton Fund website. Follow their Twitter feed for regular updates about the Newton Prize: @NewtonFund and #NewtonPrize.
Publication date: 24 October 2017