Bangor University's Peer Guides thanked as one receives Award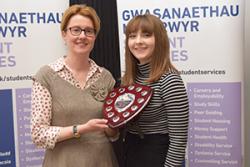 While all the Peer Guides at Bangor University were thanked, Victoria Fennel was awarded Peer Guide of the Year. here she is presented with a shield by Vice Chancellor Prof Carol Tully.Around 500 Bangor University students have been congratulated and awarded certificates in thanks for the vital role they have been playing in supporting their fellow students.
Bangor University runs one of the oldest and largest 'Peer Guiding Schemes' in any UK university. The trained 'Peer Guides' play a vital role in assisting new students to settle in to university life, helping with everything from the practicalities of moving in and finding their way around university, to assisting in supporting students in adapting to university life and signposting them to further information and support when necessary.
Thanking the Peer Guides, Pro Vice Chancellor Professor Carol Tully said:
"You do a fantastic job! We wouldn't get through Welcome Week as successfully without you! The work you do is an integral part of the University's care for its students.
"The student community at Bangor benefits from your volunteering, but you all also benefit from learning new skills and developing skills you didn't know you had!"
While all the Peer Guides were thanked for their work in supporting their fellow students, one student received the annual Peer Guide of the year Award.
All first year students are asked whether they wish to nominate a student 'who has gone the extra mile' in their support of their fellow students.
This year 40 students were nominated, and the competition highlighted individuals who had worked tirelessly to assist their group or to assist individual students facing particular difficulties.
This year's winning student was Victoria Fennell, a second year geography student at Bangor University.
Students nominating her for the Award said:
"from before we started university right up until present day she has been friendly and willing to answer any questions relating to our course or just general university life."
"has helped make me feel part of the university family"
"has encouraged me to get the best out of my university experience."
"Speaking on behalf of the others in the group, we have no bad words to say about her, we all feel like she genuinely cares about us, and we have all became good friends because of this"
"I had to go home for personal reasons, when I came back to Uni I was a bit lost and was behind. I asked my Peer Guide what I could do and they responded straight away asking if I would like them to email someone within the school to help me, and did so. A meeting was organised and my Peer Guide came with me for support. If it wasn't for them at this time I don't know what I would have done."
Victoria received a shield and a high street voucher
She says modestly: "I became a Peer Guide because, last year, I had a really good peer guide and I really appreciated the work they did for me, so thought if I could do the same it would be really nice. Peer Guiding has been really good fun, I've met so many people. I found that I was so much more confident in talking to new people by the end of Welcome Week- and I think I've grown in confidence!"
Victoria, who is 21 and comes from comes from Chelmsley Wood, Solihull, is a former pupil of Grace Academy, Solihull.
Her advice to new students at Bangor University is to go to the events organised for Welcome Week and not to worry if you don't have friends to go with.
"I went to my first event on my own and made friends with students who are my friends and house-mates today. Also, your Peer Guide should contact you before you arrive- take the opportunity to ask them questions, and don't be afraid to do something you haven't done before," she said.
Publication date: 21 April 2016