Bangor University's Pontio receives prestigious Civic Trust Award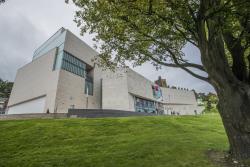 The award winning Pontio building.Bangor University's Pontio scooped a prestigious Civic Trust Award on Friday 1st March at the 60th Anniversary Civic Trust Awards Ceremony at the Imperial War Museum North, Trafford, Manchester.
The Civic Trust Awards scheme raises awareness of the important role played by high quality architecture, landscape and urban design in enhancing the quality of the environment. The programme encourages higher standards across the UK and Internationally by rewarding outstanding projects in all fields of environmental design.
Pontio received an Award and was one of only 49 National/International Winners to receive an Award or Commendation from 240 applications for a Civic Trust Award. The assessment team for the Civic Trust Awards include architectural, universal design and community assessors. Pontio then also made it through to the last eight shortlisted for the National Award.
The application for an Award was submitted by project architects Grimshaw. Kirsten Lees, Managing Partner at Grimshaw said: "We're delighted to receive this recognition for the Pontio project. Grimshaw's design for Pontio Arts and Innovation Centre unites Bangor University and the city of Bangor in a landmark scheme, which is now a popular public venue. The centre physically bridges the university's upper and lower campuses via a stepped arrangement of public terraces that connect and flow into an 'internal street'. This 'street' stems from a newly forged visual connection between the 1920s Memorial Arch through to the imposing Grade I listed Main Arts Building."
Within the centre there are many adaptable environments with a range of indoor and outdoor performance spaces, including a 450-seat flexible theatre, a cinema and a studio theatre. A 500-seat lecture theatre straddles the adaptable theatre and complements social learning spaces, the student's union, an innovation that includes state of the art facilities for designing and making and food and drink outlets.
Judges commented that Pontio was "a well worked scheme on a difficult sloping site which has been developed to provide an inclusive use of spaces."
Professor Jerry Hunter, Pro Vice Chancellor at Bangor University said: "Our aim in undertaking this project was to provide both the University and the local community alike with a first-class professional venue that would deepen our contribution to artistic, cultural and engagement activities, contribute to the regeneration of the city, build engagement between our academic community and local communities, and provide an access point into the wider University."
Elen ap Robert, Pontio Artistic Director added: "We are delighted with this Award. It is evident from audience attendances and arts participation, that Pontio has taken its place in the hearts of many member of the local community. This Award is therefore also a tribute to those that have engaged with the building and its activities since opening."
Pontio has been funded by Bangor University, the European Regional Development Fund (ERDF), Welsh Government's Strategic Capital Infrastructure Fund (SCIF), and the Arts Council of Wales.
Publication date: 4 March 2019