Bangor University's second round University Challenge appearance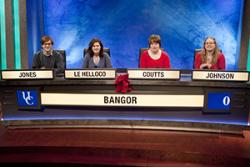 Having won their first round programme of University Challenge, by beating neighbouring Aberystwyth University by a resounding 230 points to 110, Bangor University's team now compete in their second round match of television's most difficult quiz show. You can watch the programme, on Monday 25 November on BBC 2 at 8.00pm.
Bangor University Students' Union President, Antony Butcher said:
"Last year we made the semi-finals – so I'm already riveted for this series. As always, I know the team will do Bangor proud – and whatever happens this series, we took down our friendly rivals, Aberystwyth in the first round!"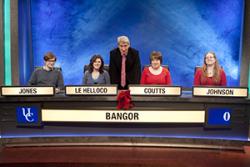 The team members are Catriona Coutts (captain), Owain Wyn Jones, Daisy Le Helloco and Anna Johnson, with Tom White as reserve team member and mascot, Rhodri the Dragon.
Team captain Catriona Coutts, from Gaerwen, Anglesey, was reserve member for last year's Team. She is 24 and is studying English Literature with Creative Writing and is a former pupil of Ysgol David Hughes, Menai Bridge, Anglesey.
Catriona said: "Taking part was an amazing experience; exciting, scary and surreal in equal parts! It was also interesting to see how things worked in the studio. Everyone working on the programme was really nice and went out of their way to make us feel relaxed and comfortable."
Other team members are: Twenty-six year old Owain Wyn Jones, who is reading for a PhD in Medieval Welsh history. He's a former pupil of Ysgol Gŵyr and comes from Swansea; Daisy Le Helloco, who is 25 is also reading for a PhD, this time, in English Literature. She is a former pupil of Thomas Hardye School, Dorchester and comes from Dorchester;
Anna Johnson who is 22 is studying an undergraduate degree which will lead to a Masters degree in Marine Biology, She is from Chippenham and a former pupil of Abbeyfield School;
Publication date: 20 November 2013