Bangor University's The Great War Exhibition runs until March 2015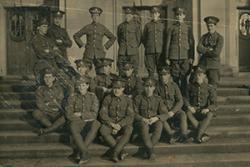 Men of the Officer's Training Corps on the steps of PJ Hall: One of the first institutions of the College, the Corps at Bangor was attached to the Royal Garrison Artillery, with Principal Sir. Harry R. Reichel as Captain.August 1914 was the month Sir Edward Grey exclaimed "The lamps are going out all over Europe …We shall not see them lit again in our lifetime." August 2014 will mark one hundred years of Britain going to war with Germany, with worldwide plans in place for commemoration and reflection on a conflict which had a fundamental effect on the course of our history.
The Great War was the cause of change on an unprecedented scale: the sheer magnitude of the conflict, the military revolution with the development of new effective methods of employing modern warfare, the mass slaughter and the transformative effects on society, changing and undermining established notions, all affected the every-day lives of Europeans and many others across the world.
One hundred years on, the living links which connected us with the War have been lost making the existence of archival material relating to the period of increased importance. The current exhibition of material drawn from collections held at the Bangor University Archives Department remembers the people – the heroes and victims, pacifists and poets, soldiers, students and civilians – who lived, fought and died in one of the deadliest conflicts in history.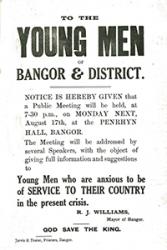 A poster advertising a recruitment meeting which took place in Bangor in August 1914.Items on display include original documents relating to Belgian Refugees in Wales; correspondence and printed material relating to conscientious objectors; original maps, plans, photographs and operation orders from the Battle of Pilckem Ridge; personal and operational diaries and letters; the University and the War; and awards, honours and memorials. Also shown is a letter from 'Cynan' (Albert Evans-Jones) which contains the first draft of his first war poem 'Anfon y Nico i Landwr,' which reflects his longing for the Welsh countryside and its characters. Of note are two compositions on display written by the Welsh poet, 'Hedd Wyn' (Ellis Humphrey Evans); a draft of his 'Yr Arwr' (The Hero) which won the 1917 National Eisteddfod chair just six weeks after his death, and a letter, 'Rhiwle yn Ffrainc,' in which he describes life "behind the lines" of the Western Front - the piece contains fantastic descriptions, including a description of an old shell with flowers growing out of it – the contrast between something so beautiful yet horrific and barbaric at the same time.
The exhibition will be on display until March 2015 in the Council Chamber Corridor of the Main Arts Building, Bangor University.
Publication date: 4 August 2014