Bangor University's Winter Graduation Ceremony
Over 400 degrees were awarded to Bangor University students at its winter graduation ceremony recently.
During the ceremony Professor John G Hughes, Vice-Chancellor congratulated graduates and thanked parents, families and friends of the graduates for their support during their years of study.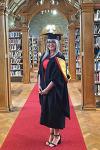 Sophie BurgessSophie Burgess from Penygroes graduated with a BN Adult Nursing degree. She was recently a runner-up in the Student Nurse of the Year Award 2017. Sophie has made a significant impact to how the School of Healthcare Sciences welcomes its student groups and is an advocate for the Welsh language. She has helped to develop the Welsh Champions Project, led by Coleg Cymraeg Cenedlaethol students and took an active role in promoting nursing careers in Wales under the 'This is Wales. Train, Work, Live' campaign, a NHS Wales/Wales Deanery initiative.
Sophie said: "I'm delighted to be graduating today, and have thoroughly enjoyed my time at Bangor University. I've had so many wonderful experiences, being a finalist for the RCN Student Nurse Of The Year Award 2017 was an outstanding achievement. But, being a runner up and receiving an award amongst my inspirational lecturers and many nurses was an honour. This is a personal achievement but more so I am delighted that my passion for raising awareness of the importance of the Welsh Language within Healthcare and supporting student nurses is evident, which I will continue to do. I have had the best time and proud to be a Bangor University student. I cannot thank my personal tutor and the lecturers at the Bangor Campus enough for their phenomenal support. I hope this will inspire other student nurses to capture all available opportunities and to make a difference."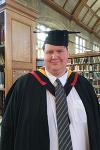 Michael HowardMichael Howard originally from Glan Conwy received a distinction in a Masters in Law degree and also received a prize for the best student on the LLM Law programme.
Michael said: "I am delighted to be able to continue my study of law at Bangor University. My father originates from Treborth just outside Bangor and I was brought up nearby on the Conwy Valley. Bangor Law School was an obvious choice for the LLM course with many leading academics and large range of specialisms. The University has always had strong local community links and promotes an ethos of self-improvement. Bangor is a truly beautiful city set between the mountains and the Straits. During the course I particularly enjoyed attending the first Bangor Intellectual Property Law Roundtable and a wide range of guest lectures by visiting senior academics, as well as benefitting from the excellent teaching and research facilities on offer here. I'll soon commence a PhD in the field of Intellectual Property Law under the supervision of Dr Mark Hyland. My doctoral thesis will explore the complex interface between Intellectual Property Law and Competition Law, a particularly cutting edge and forward looking theme."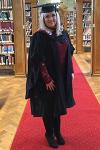 Elinor SmithElinor Smith from Wrexham lost her father at the age of six and when she was older, she decided that she would like nursing career. Today she graduated with a BN Adult Nursing Degree, she said: "I'm really happy to be graduating today, as I received a lot of support from Nightingale House Hospice as a child to help me deal with my dad's sudden death which inspired me to go into nursing." Elinor now works at the Robert Jones & Agnes Hunt Hospital in Gobowen.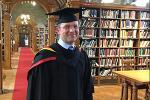 Eilir JonesEilir Jones from Llangefni received an MA in Social Work, he said: "I'm really pleased to be graduating after an enjoyable period of study at the University."
Publication date: 14 December 2017