Bangor University secures funding for five Confucius Classrooms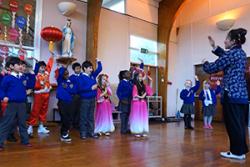 A Chinese dance class at Our Lady's School, Bangor The Confucius Institute at Bangor University has recently secured prestigious funding for five Confucius Classrooms at schools in north Wales from a total of only 60 awarded worldwide this year.
An initiative of China's cultural agency Hanban, Confucius Classrooms are based within schools and colleges around the world and are intended as local hubs to stimulate and support the innovative teaching and learning of Chinese language and culture across communities.
"We are delighted to have been granted funding for five of only 60 Confucius Classrooms worldwide this year…" commented Confucius Institute Director Dr. David Joyner.
"This is a very prestigious award for us, particularly as these are also our first Confucius Classrooms, and we look forward to working with the five schools involved as they set out on their journey to develop their own Chinese learning centres."
The schools involved include two local Secondaries (Ysgol Friars in Bangor and Holyhead High School) and a further three Primaries (Our Lady's School in Bangor, Ysgol Esgob Morgan in St Asaph and Ysgol Hiraddug in Dyserth) located across north Wales.
All five schools have been working with Bangor University's Confucius Institute for some time now and, with their new Confucius Classrooms in operation, students and staff at each school will be able to benefit from an expanded programme of Chinese language, cultural learning and exchange. Longer term, it is envisaged that every school in north Wales will have the opportunity to access a Confucius Classroom and benefit from the valuable resources these hubs can offer.
Publication date: 16 September 2016