Bangor University Staff Awarded for their Achievements in Learning Welsh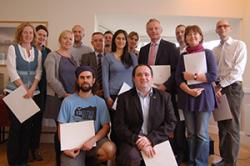 Bangor University staff and postgraduates with their certificates.In a joint event between Bangor University and the North Wales Welsh for Adults Centre, 33 members of the University staff and post-graduates were awarded certificates for achievements in WJEC second language Welsh examinations and Welsh in the Workplace qualifications. A small ceremony was organised to celebrate the learners' success during the national 'Celebrate your Welsh day: Shw'mae, S'mae' recently.
As well as achievements in the WJEC examinations, the Welsh in the Workplace qualification was a new pilot, run this year by the University and the Welsh for Adults Centre. This qualification offers Welsh tuition which reflects the language needs of each specific workplace, and the final tests are tailored for each individual member of staff accordingly. The pilot scheme offers new options for University staff to develop their skills, and it is hoped the scheme will go from strength to strength in the future.
The Vice-chancellor, Professor John G Hughes, presented the learners with their certificates. A successful Welsh learner himself, he was also presented with a WJEC A level certificate by the Deputy Director of the North Wales Welsh for Adults Centre, Elwyn Hughes.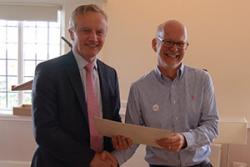 Elwyn Hughes (right) presents the Vice-chancellor with his certificate.Professor Hughes said: "Developing the language skills of our staff is a key part of our commitment to operate as a fully bilingual University and is central to our desire to maintain our position as the leading higher education Welsh language institution."
Elwyn Hughes added: "We really appreciate that staff and students at the university are happy to work toward a qualification in the Welsh language, and are pleased to hold this ceremony to celebrate their achievements."
There are currently over 100 members of Bangor University staff enrolled on schemes and courses to develop their Welsh skills.
Publication date: 27 October 2014