Bangor University Student becomes one of the youngest ever to become Japanese Jiu Jitsu second degree black belt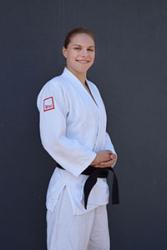 Gabriella RossettiA Bangor University student has become the fourth woman in the world, and one of the youngest ever to be graded as a second degree black belt in Japanese Jiu Jitsu.
Gabriella Rossetti, 24, originally from Bristol, is studying towards a PhD in Sports Science. She was recently invited to the Jiu Jitsu Foundation's national dan grading in Bristol where she became the first woman in 14 years to reach second degree black belt level and the only woman in the world to currently have it.
Japanese Jiu Jitsu is self-defence martial art. Gradings are about demonstrating your technical and physical abilities in self-defence. For her grading, Gabriella went before a panel to test her self-defence and Jiu Jitsu abilities. She faced simulated situations that included defending herself from two attackers at once, each armed with knives, chains, wooden sticks; a circle of attackers with an assortment of weapons or punches; attackers weighing over 100kg using skilled boxing attacks; kneeling with her eyes closed until two men pinned her to the ground and choked/punched her. She was also asked to demonstrate technical precision with some specific techniques chosen from the Jitsu syllabus.
Gabriella is the current National Champion (women's) and founded the Bangor University Jitsu Club in 2011 of which she is an instructor (Sensei). The club won best new club of the year within the NGB that year, and overall club of the year in 2013.
Extremely pleased with her grading, Gabriella explained why she chose to study at Bangor University: "The Sports Science Outdoor Activities course was an exceptional opportunity that wasn't matched by anything else in UK universities. A scientific course lead by world-leading experts in extremes research, but also the opportunities to experience the amazing environment Bangor is situated in!
"I loved my undergraduate degree here, and got the opportunity to complete research working with the Ministry of Defence in my Masters, and now completing a PhD in High Altitude Physiology. I have already been on a research expedition to the Himalayas. Bangor continues to offer a variety of amazing, unique opportunities.
"I'll be continuing to teach Bangor University Jitsu, and I've got several regional and national events that I will be teaching and training at in the months ahead, including national championships. One day I would love to do my third dan, but there is a minimum of 5 years before I will be eligible for that."
Related stories
Extremes Research group to investigate altitude illness in Himalayan expedition
Bangor University group return from Himalayan expedition
Publication date: 18 July 2016