Bangor University Student celebrates graduation in late mother's memory
Relief, happiness, fear and sadness are just some of the emotions that a Bangor University student will be feeling during her graduation ceremony this week.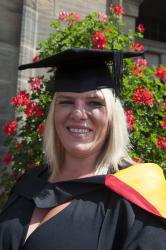 Fflur EmlynFormer Coleg Harlech student, Fflur Emlyn, 37, from graduates this week with a BA Psychology degree. Feeling very proud of her accomplishment, Fflur cannot wait for graduation day so that she can celebrate with her children, father, partner and best friends - without them, she would not have achieved this dream.
Fflur said: "I worked for Dafydd Wigley MP for about three years after I left college and then went on to work for Harlech Food Service for 12 years. During this time my mother, whom I was extremely close with, found that she had breast cancer. She received various treatments and appeared to be on the mend. A few years after her diagnosis, I discovered that I was pregnant and had a baby boy. The relationship with my son's father did not work and I became a single mother.
"Just before my mother's final five year check-up we discovered that the cancer had spread to her spine. She fought the cancer for over two years but she lost her battle after it spread to her liver. Her death awoke a desire in me to want to change my life, which resulted in me returning to education. I went to Coleg Harlech to undertake an Access Course so that I could proceed to university.
"I was always interested in psychology and knew that I wanted a career that would make a difference and help others. At the beginning of my degree I got engaged to my long term partner and, at the end of my first year, discovered that I was pregnant. This resulted in an emergency caesarean during the first month into my second year. I decided to carry on with my degree and my job, needless to say it was difficult, but I had a family to support and a mortgage to pay.
"My partner was diagnosed with clinical depression during my second year, which resulted in us deciding to live separately until he got better. We're now discussing moving back in together.
"I chose to study at Bangor as it's close, but mainly as I had discovered that the School of Psychology was exceptional. It was also recommended to me by the psychology lecturer at Coleg Harlech.
"I've been accepted to study a Masters in Applied Behavioural Analysis at Bangor's School of Psychology which will hopefully lead to work as a qualified behaviour therapist. I'm also very interested in counselling as a future career."
Publication date: 12 July 2013