Bangor University student crowned Junior British Hill Climb Champion 2019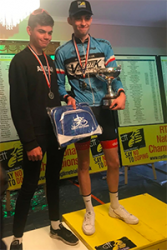 First-year Sports Science student, Chris Mann, has been crowned the Junior British Hill Climb Champion 2019.
Former Ysgol Brynhyfryd student, Chris, 18, explains his recent achievement:
"The Championship had the best and fastest UK cyclists competing in this prestigious competition. Winning the junior competition is a huge achievement for me as a cyclist; it will raise my profile substantially.
"I have progressed a lot over the past year, and the fact that I have been able to do consistent training has had a big impact on my race results. Coming second in the Welsh Time Trial Championships 2019, first in the Welsh Junior Hill Climbing Championship 2019 and now first in the Junior British Hill Climb Championship 2019, which I am over the moon with!
"Studying Sports Science at Bangor University is a huge advantage for me as a cyclist as it allows me to understand how to improve and get myself better as an athlete. Bangor is such an fantastic place to live for a cyclist, the mountains have been amazing for my training and is definitely a reason why I was in such good shape for the nationals after training hard during Welcome Week and leading up to the Championship.
"Living here gives me more motivation to train and makes training even more enjoyable. Studying and training has been good, my lectures and the School of Sport, Health and Exercise Sciences are very positive about my training and racing needs. I have to be disciplined and organised to be able to get the work done and train to the standard that I want to. I joined the Bangor University Cycling Society, who are a great, active club. There is always help available on their Facebook page and they have really good cyclists to go train with, and I will hopefully be racing with them next year!"
Chris got into cycling when he was 13, citing his dad and brother as 'big motivators' for getting him into cycling whilst they were training for the Coast to Coast cycle challenge.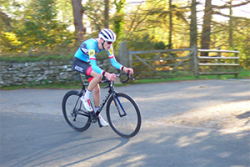 Chris got the 'cycling bug' after a couple of sessions at Marsh Tracks, Rhyl with the British Cycling Go-Ride sessions. He discovered that he had a natural ability for cycling, and entered his first race at the age of 14 with the Wrexham Roads Club.
Over the next couple of years, Chris took training more seriously, and rode for Marsh Tracks Race Team, the main race team in north Wales for youth and junior riders. From this, he was able to go onto ride at the Manchester Velodrome, and was selected for the Welsh Youth Team at the age of 16.
Although having battled with injuries and illness, Chris still managed to win Welsh Hill Climb Titles and was placed second in his age category nationally on two occasions. After A Levels, he was selected to race for Velotik Race team, a Time Trialling team based in Manchester.
Chris's next target will now be the senior road race events, aiming to improve his fitness in order to compete with the best seniors in the UK and hopefully internationally.
Publication date: 31 October 2019