Bangor University student features on popular television show
A Bangor University student will feature as the 'student of the month' on the popular rural affairs programme, 'Ffermio'. Huw Davies is in his 3rd year studying for a BSc in Agriculture, Conservation & Environment (ACE) in the School of Environment, Natural Resources & Geography, and will discuss how he combines his degree with his duties on the family farm near Llangefni, Anglesey.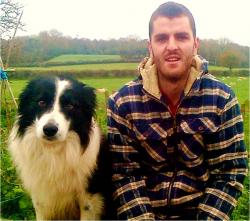 As Huw says "I'm enjoying my degree and it has really broadened my horizons. My project work in particular has been really beneficial as I've been able to conduct quite a large study on the suitability of different forage types for finishing lambs. The findings will help us farm in a more economically and environmentally-sustainable manner when I return to the family farm". Huw's project has drawn considerable outside interest, and an open day will be held at Bangor University's farm, Henfaes Research Station, to demonstrate the results.
Bangor University was one of the first universities in the UK to offer a degree in Agriculture. The ACE degree has been developed to reflect how agriculture has evolved. As Course Director, Dr Prysor Williams, noted "agriculture has changed considerably over the last twenty years. The importance of farmers is increasingly recognised in society as they provide us with food and help deliver a range of other 'ecosystem services' on which we all depend, such as clean water and carbon storage; in addition to the conservation of habitats. The degree that we offer is unique in that it brings all these elements together into one interesting package. This makes it suitable for those that want to go into agriculture and those that aim to work at the agricultural-environmental interface." He also added "Huw is a good example of a hard-working student who will no doubt go on to a successful career in one of our most important industries. I wish him well in the future".
The programme can be seen on S4C at 8:25pm on Monday 19th November. The programme will also be available to view again on 'Clic' via the internet.
Publication date: 16 November 2012