Bangor University student returns from football coaching programme in South Africa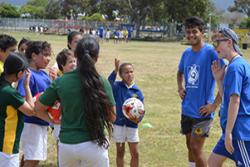 James (right) in South AfricaA Bangor University student has returned from a football coaching programme in South Africa realising that he 'can make a big difference to people's lives'.
James Hodgetts, 19, from Cheshire, a former Congleton High School and Reaseheath College student is currently on his second year of a Sport and Exercise Psychology degree. James was selected by Wirral-based The HQ Coaching Centre to take part in the scheme in Cape Town to help deprived children develop their football skills.
James said that the 10-day trip "is the greatest thing I've done in my life!"
He added: "I am also extremely proud of the fundraising I have undertaken, raising £1,500 to allow me to travel to South Africa to coach sports in the township schools. The timescale was short, I was accepted onto the trip in May 2015 and completed raising the funds by September 2015, using a variety of methods, such as tombola, raffles and general selling.
"During the trip I coached underprivileged children and gained a valuable experience and a new outlook on life. I worked with different group members at different schools, in challenging conditions every day, presenting and delivering a sports session.
"The experience has hugely improved my confidence; teaching children with differing ages and ability, while coping with the language barrier. There were constant challenges throughout the trip and our sessions had to be adapted to meet these last minute demands. I was very pleased when the trip co-ordinator praised my control and focus."
Matthew Houghton, Sports Director at The HQ Coaching Centre, said: "James' dedication to the session planning was really good and he had impressive organisation skills. I was also really pleased to see his confidence and communications skills develop during the trip. The whole concept of the programme is to help springboard students into further and higher education and the transferable skills gained on our programmes are incredibly useful for future careers such as sports development and teaching."
Publication date: 7 May 2018