Bangor University Student selected for Wales Rugby League squad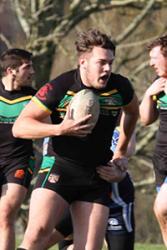 Chris JonesWales Rugby League have confirmed their 20-man students' squad in preparation for the forthcoming Four Nations tournament.
Chris Jones, 21, from Holywell, a final year product design student at Bangor University is one of the 20 students selected from a total of 13 education establishments from all over the UK.
The tournament starts on June 12th in Edinburgh when Wales will take on England, Scotland and Ireland all in the space of a week.
Chris has been playing rugby for many years and has played for multiple teams, most recently the Chester Gladiators.
Chris said: "I feel overwhelmed to be selected, it's not often that you get the call to play a sport for your country; and it will undoubtedly be an unforgettable experience. I feel proud to have been asked to go out and represent Wales; and it is certainly something to be proud of as only a select few are asked to play.
"The experience will, hopefully, improve my rugby league skills further; the standard at the tournament will be extremely high and the competition will be fierce, I hope to play as well as I possibly can.
"Following the tournament, and any further games, I hope to return to Chester Gladiators with a solidified sense for the game."
Head coach, Latham Tawhai, said: "The selection of this group of players comes after our training weekend held at Caerphilly RFC where the players were put through a couple of days of intense training to prepare them for the rigours of the tournament where they will play three games in the space of six days.
"Whilst some of the more senior players are unavailable for selection this year due to other commitments, we're excited to unveil some of the up and coming talent in Wales.
"There is no doubt we will have one of the youngest Student sides we've ever taken to the tournament, but given we are a year out from a World Cup we felt it was important to blood some of the younger players who have a great chance of making it on to the plane next year. They'll learn a lot from being part of this tournament which hopefully puts them in good stead come 2017."
13th-18th June - Student 4 Nations, The University of Edinburgh, Peffermill Playing Fields
13th June - Ireland v England 15:30, Scotland v Wales 18:00
15th June - Wales v Ireland 15:30, Scotland v England 18:00
18th June - Scotland v Ireland 12:00, England v Wales 14:30
Publication date: 9 June 2016