Bangor University student shortlisted for national award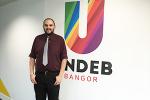 Matt DayBangor University's Students' Union Vice-President for Societies and Community Elect has been shortlisted for national award.
Matt Day, 23, from Southampton is shortlisted for a sponsored bursary for outstanding contribution in the NUS National Societies Awards, which is the first national event to credit societies for their contribution to students' career prospects and experience during their time at university.
Matt is currently doing a PGCE in Secondary Science at the School of Education and graduated with an MEng Electronic Engineering degree from the School of Electronic Engineering in 2015. He has worked with the Stage Crew Society (now called Titan Sounds and Light) and has developed the society to a widely used bigger and better society that supports the majority of student and University events.
Matt said: "I'm really looking forward to hearing about all the great work that other student societies are doing nationally and can't wait to incorporate some of the ideas into my work in the year ahead."
Mark Stanley, VP Societies and Community, said: "I'm incredibly proud that Matt is being recognised for his work with Societies this year at these awards – Since he came to Bangor, he has supported students with their events time and time again to make them that extra special."
Should Matt win this bursary, he and the society will be awarded a cash prize as well as the invaluable experience of attending the award ceremony at the University of West England on the 4th of June.
Matt will be part of the Students' Union full-time Sabbatical Officer Team during the 2016-2017 academic year.
Publication date: 25 May 2016