Bangor University Student Shortlisted for 'Phd Student of the Year' in Inaugural Postgrad Awards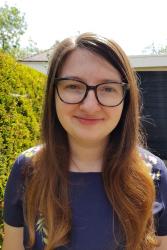 Shortlisted PhD Student of the Year, Ashleigh Johnstone was also awarded a prize at Bangor University recently.Bangor University students Ashleigh Johnstone, from Douglas, Isle of Man, has made it through to the shortlist of new national Award.
Ashleigh was among over 140 PhD students nominated and is shortlisted for the PhD Student of the Year category in the Awards by FindAMasters.com and FindAPhD.com .
The Competition organisers received nominations of an extremely high standard, refecting many inspirational stories. The judging panel consists of experts across the education sector, and they will be announcing the winners at the end of July.
Having studied her first degree in Psychology with Neuropsychology and an MSc in Psychological Research at the University's School of Psychology, Ashleigh is currently studying a PhD in Psychology, and is assessing the cognitive benefits of Martial Arts training.
A former St Ninian's High School student, Ashleigh says:
"I'm honoured to be shortlisted for PhD Student of the Year, I've really enjoyed working on this project so it's amazing to see my work be recognised in this way. I'm truly grateful to my supervisor, Dr Paloma Mari-Beffa, for supporting me throughout and nominating me for this award.
"I've really loved my time in Bangor - as evidenced by the fact I'm still here after a BSc and MSc! The staff have always been so supportive, encouraging me to keep aiming higher and never give up."

The winner of the PhD Student of the Year will receive a £500 cash prize as a reward for all of their hard work, dedication and commitment demonstrated as a postgraduate student. They will also be featured in our blog pages which will showcase their success so far, winning application, and discuss the impact of their studies and what's next for them.
Andy Pritchard, Managing Director of FindAUniversity Ltd., said:
"Our Postgrad Awards underline our continuous commitment to celebrate postgraduate students and staff. We want to showcase their achievements and recognise them for not only their academic merit or teaching excellence but for everything else that comes with being a postgraduate student. We have been overwhelmed with the number of high-quality entries and reading the stories and experiences that aren't always shared but are hugely inspiring."
25 year old Ashleigh was also I've also recently won a Teaching Award at the University.
She added: "I don't think any of this would've been possible without the supportive environment of the School of Psychology. I've really tried to make the most of my time as a Bangor University student, and it's incredible to see it all paying off - it makes me speechless!"
Publication date: 5 July 2019