Bangor University student to use new role to inspire others to get involved in volunteering
Bangor University student volunteer Ashlee Prince has been chosen to lead the Wales Points of Light Network of Young Community Leaders after inspiring award organisers with her long term commitment to volunteering.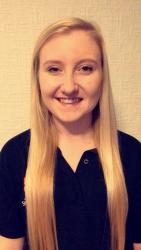 Points of Light leaders are outstanding individual volunteers – people who are making a change in their community. Every week day the Prime Minister recognises an inspirational volunteer with the Daily Point of Light award. Points of Light has worked with universities throughout the UK to recruit student volunteers who receive training at the cabinet office and will present their work at 10, Downing Street in June 2016.

Ashlee, a third year Psychology student, is very excited at the opportunities that will be presented to her through being a part of Points of Light. She said: "I will use this role to inspire other people to get involved in volunteering and helping others because I think it is a truly amazing thing to be a part of". She has already attended training at the Cabinet Office and is looking forward to getting on with the role.

Ashlee, 20, from Nantwich in Cheshire, has volunteered with SVB since securing a place on the popular Hergest Project in her first year. She continues to volunteer at Uned Hergest, the mental health unit at Ysbyty Gwynedd, Bangor every week. This academic year, Ashlee will also lead the group of 14 volunteers attending the unit on Wednesday evenings as well as giving her time to volunteer on a project working at the Ty Newydd approved premises in Llandygai.

Ashlee said: "The highlights of Student Volunteering Bangor are that I have made so many new friends and I have been able to experience helping people that I would never have got the chance to do elsewhere. Student Volunteering Bangor has helped me to become a better person by helping others and I would recommend getting involved in voluntary work to anyone."

SVB is a department within the Students' Union and manages 35 different community volunteering projects providing Bangor University students with over 700 opportunities to volunteer over the course of the academic year.
Publication date: 12 January 2016