Bangor University student wins Eisteddfod T main literary award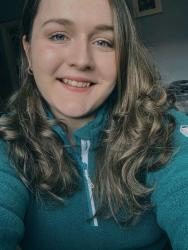 Mared Fflur JonesMared Fflur Jones from Dolgellau is the winner of the main literary award at the ground-breaking digital Eisteddfod T, with a piece "full of love and anguish" according to the judge, renowned author Manon Steffan Ros.
A daughter of Fronalchen farm on the outskirts of Dolgellau she attended Ysgol Ieuan Gwynedd, Rhydymain and Ysgol y Gader, Dolgellau before moving on to sixth form at Ysgol Bro Hyddgen, Machynlleth. Mared is about to complete her second year studying Welsh at Bangor University.
She is an experienced eisteddfod winner - winning the chair at a school eisteddfod at Ysgol y Gader and has come second and third for the chair at the Meirionnydd Young Farmers Eisteddfod. She plays rugby, sings and performs and has spent recent weeks at home helping on the farm, reading and undertaking some DIY projects.Mared was revealed to be the winner in a special ceremony broadcast live on S4C and BBC Radio Cymru, with the judge, Manon Steffan Ros, and the three finalists joining on-screen from their homes.
Congratulations to alumnus, Osian Wyn Owen from Felinheli, who graduated with a first-class degree in Welsh at Bangor in 2018, who came third in the competition. Announcing that Maredwas the winner, and will receive an award created by sculptor Ann Catrin, Manon Steffan Ros was full of praise:
"She is an exciting and skilled author, who uses natural, spoken style and clever wit to capture the attention of the reader. She weaves a simple yet moving storyand paint a picture in the mind's eye that is completely real, clear, poignant and full of love and anguish."
The ground-breaking Eisteddfod T, where all the competing happens online, is on the fourth successful day of broadcasting. The response from audiences has been positive, with many expressing their appreciation of the Urdd's initiative on social media.
Publication date: 28 May 2020