Bangor University student wins the first major ceremony of Eisteddfod T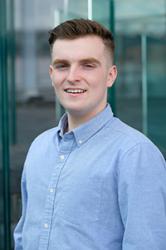 Cai Fôn DaviesThe winner of the prestigious Main Composer title of the ground-breaking Eisteddfod T, the first ever digital Urdd National Eisteddfod, has been revealed as 20-year old Cai Fôn Davies from Penrhosgarnedd.
A former pupil of Ysgol Tryfan, Bangor, Cai, is in his second year at Bangor University studying Welsh and History.
A familiar face to the Urdd National Eisteddfod, Cai has been competing successfully from an early age. He is also one of the six who competed for the Urdd Gobaith Cymru Bryn Terfel Scholarship last year, having won first prize in the Cardiff and Vale Urdd Eisteddfod recitation competition in 2019.
He wins the title for composing a piece of music of no more than 2 minutes in duration on any theme, a competition that attracted 21 compositions of a high standard, according to the competition judge, Eilir Owen Griffiths.
Cai, under the pseudonym Zart Mo, presented a piece for a string quartet which, according to the judge, was "compelling throughout".He is a versatile and experienced performer and has appeared many times on stage in Wales and beyond over the years. A personal highlight for him was when he reached the stage in three of Cardiff National Eisteddfod's under-21 competitions in Cardiff in 2018.
Cai is also a member of Johns' Boys choir and Neuadd JMJ college choir and is looking forward to resuming his performing when appropriate.
In his critique, Eilir Owen Griffiths said: "What this composer manages to do is to cleverly deliver many contrasting short sections and develop them effectively within 2 minutes – it's a complete composition. The composer is obviously experienced inwriting for strings and manages to create interesting textures and share the ideas between the instruments effectively. There is innovation here. Congratulations!"
Cai will receive a specially created trophy by north Wales sculptor Ann Catrin.
Congratulations to Celt John from Dolgellau who is studying Welsh at Bangor who came second in the competition.

Publication date: 25 May 2020