Bangor University students awarded prestigious Drapers' Company medals
Bangor University students were presented with the Drapers' Medals recently. The Drapers' Company is one of the historic Livery Companies of the City of London, and now a philanthropic organization. The Drapers' Company kindly donates two medals each year to be awarded to outstanding postgraduate students.
For over a hundred years the Company has been linked to the University, initially through substantial grants towards the construction of some of the University's main buildings including the library, science laboratories and the electrical engineering department.
Professor Carol Tully, Pro Vice-Chancellor (students) lead the event and John Giffard, Master Draper, presented the students with the medals. These prestigious awards takes into account the quality of a student's research, teaching, and service to the University and community.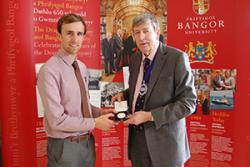 Ben Butler (left) being presented with the Drapers' Medal by John Giffard, Master Draper.Benjamin Butler, 25, from Cranleigh, Surrey, was awarded a silver Drapers' Company medal and is currently approaching the end of his PhD in Marine Geochemistry. Benjamin completed an undergraduate degree at the School of Chemistry and a postgraduate degree at the School of Ocean Sciences before commencing his PhD in 2012.
Benjamin said: "I am delighted to have been awarded this medal in recognition of my contribution as a postgraduate student. I have been very fortunate in the generous support I have received from my supervisor, the Students Union, and the University relating to a number of responsibilities during my PhD. From this support; my involvement in research, public engagement, and university sport, has provided me with a well-rounded and fulfilling postgraduate experience. I hope that this experience, and the recognition from this award, will stand me in good stead as I pursue a career in academia.
Benjamin was nominated for a medal by Professor Hilary Kennedy, she said: "Ben is one of the best PhD students that I have supervised. During his PhD he has made a significant contribution to research in polar sea ice environments at sub-zero temperatures. His work is always of the highest quality as evinced by the number of awards and prizes he has gained.
"Ben has contributed greatly to the school by providing demonstrations during Open Days and delivering presentations to his fellow students. He has also represented the School and University as part of a public engagement project, delivering practical science workshops to over a 1000 north Wales school pupils."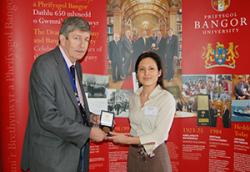 Géraldine Derroire (right) being presented with the Drapers' Medal by John Giffard, Master Draper.Géraldine Derroire, 35, from Clermont-Ferrand, France, was awarded a bronze Drapers' medal. Géraldine is in the final three months of finishing her PhD on the ecology of tropical dry forests, through the Erasmus Mundus FONASO (Forest and Nature for Society) Doctorate programme within the School of Environment, Natural Resources and Geography.
Géraldine said: "I feel very honoured to receive this award. This is a wonderful encouragement at a time when I am finishing my PhD and am about to embark on a research career. Studying at Bangor University has been an enriching time. I have been trained not only to carry out research, but also to be a researcher thanks to the wider academic experience and opportunities Bangor University has given me. Being trusted with teaching activities was particularly enjoyable. I am very grateful to my supervisor Professor John Healey for his support and guidance, and to the academic and administrative staff of the School for providing a great working environment."
Géraldine was nominated for the medal by Professor John Healy, he said: "Throughout her doctoral studies, Géraldine has taken the intellectual lead in her project being extremely pro-active in designing and conducting a high quality programme of research. This has required her to invest considerable time in acquiring new knowledge and skills, and as a result she has now become an early career scientist of extremely high potential. Her dynamism, determination and adaptability in the multi-cultural context of Costa Rica has allowed her to successfully conduct an ambitious series of field research projects there. She developed strong collaborations with conservation and restoration practitioners and international scientists in the area."
John Giffard said: "We're delighted to be in Bangor and it's been an inspiration to meet the staff and Students. We've seen the wonderful new Building and facilities at the School of Ocean Sciences and Pontio, the new Arts and Innovation Centre. The student's work that we've seen is utterly wonderful and we're very pleased to be able to support them. We really value our relationship with Bangor University which has been going on for many years and I hope will continue for many years to come."
Related stories
Bronze for Ben in Hill Climb Championship
Publication date: 22 February 2016