Bangor University students awarded prestigious Drapers' Company medals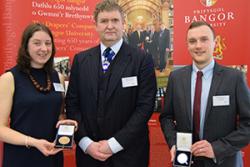 L-R: Jess Mead Silvester, William Charnley & Philip HollymanBangor University, School of Ocean Sciences students were presented with the Drapers' Medals at a recent ceremony. The Drapers' Company is one of the historic Livery Companies of the City of London, and now a philanthropic organization. The Drapers' Company kindly donates two medals each year to be awarded to outstanding postgraduate students.
For over one hundred years the Company has been linked to the University, initially through substantial grants towards the construction of some of the University's main buildings, including the library, science laboratories and the electrical engineering department.
Professor John G Hughes, Vice-Chancellor, welcomed the Drapers to the University, and said: "We are extremely grateful to the Drapers for their continued support for the University and our students. We always look forward to the annual visit of the Drapers as we know that they keenly follow developments at the University and are always delighted to meet our inspirational students who receive the annual Drapers medals."
Professor Carol Tully, Pro Vice-Chancellor (students) led the event and William Charnley, Master Draper, presented the students with the medals. These prestigious awards takes into account the quality of a student's research, teaching, and service to the University and community.
Philip Hollyman, 27, from Manchester, was awarded the silver Drapers' Company medal and is currently approaching the end of his PhD in Marine Biology. Philip completed an undergraduate four-year "M" degree at the School of Ocean Sciences before commencing his PhD in 2013. During his research, Philip successfully submitted three NERC facility applications totalling £110,000 to fund the geochemical aspect of his research. Whelks, scientific name Buccinum undatum, are commercially important in Welsh waters and his work on determining their age has attracted considerable interest from the fishing industry. In February 2015 he ran a workshop at the Centre for Environment, Fisheries and Aquaculture Science in Lowestoft on the use of whelk statoliths for fisheries monitoring that was attended by researchers from several governmental organisations. In May 2017 he will be running a workshop in Newfoundland for Canadian and American fisheries scientists. Throughout his time studying at Bangor, Philip has won a variety of awards, which include the Institute of Marine Engineering, Science and Technology (Wales) Young MarineScientist of the Year 2010/2011.
Philip said: "I am very proud to receive this award. It has been an absolute privilege to undertake this project at Bangor University which has such a rich history in marine sciences. This was enhanced by a fantastic group of supervisors, especially Chris Richardson who helped and supported me from the very beginning of the PhD project.
"The work has been very varied, allowing me to undertake a wide range of experimental work from cutting edge analytical techniques to more commonly used fisheries methods. The work which I completed will allow better monitoring and management of an important fishery for the common whelk within UK coastal waters. I am looking forward to implementing the techniques I have developed to help the Welsh Government in particular over the coming months. I have had great opportunities to communicate my work throughout the three and a half years which allowed me to present at a range of workshops, governmental meetings and conferences both nationally and internationally. Receiving this award so close to the end of the project has given me a renewed drive which I will carry in to my new job."
Philip was nominated for a medal by his PhD supervisor, Professor Chris Richardson who said: "Philip has demonstrated outstanding drive, commitment and dedication to pursue and deliver excellent research outputs and publications. He is a brilliant organised researcher who has worked successfully to collaborate with the Centre for Environment, Fisheries and Aquaculture Science and the British Geological Survey researchers to capitalise and use the available state of the art analytical equipment and expertise at both institutions to answer fundamental scientific questions about his research. Philip is an excellent communicator with an ability to communicate complex scientific principles and results to academics, government organisations, fisherman and the general public."
Jess Mead Silvester, 29, from Bethesda, was awarded a bronze Drapers' Company medal. Following her maternity leave, Jess returned as a part-time student in 2015 and is currently in the final year of her PhD study.
A former Ysgol Brynrefail pupil, Jess undertook the numerically challenging MSc in Physical Oceanography having graduated with a first class honours degree in Geography from Bangor University. She gained a distinction on the MSc course before embarking onto a PhD under the supervision of Dr Yueng-Djern Lenn. Her PhD focuses on a problem of global importance, the transformation of oceanic water masses in the ocean surrounding the Antarctic, a critical link in the Earth's climate system.
Her project is based on observations made in this exceptionally harsh regime. Jess collected her data during an international research cruise to the region. During this cruise she took the lead in deploying and recovering a number of novel scientific instruments and has since worked on processing the data collected and using this data to test ideas as to the mechanisms which drive mixing, and hence water mass transformation, in this unique regime.
Jess said: "I'm really pleased to receive this award and it is a lovely boost as I approach the end of my PhD. I'm immensely grateful for the opportunities my supervisors at Bangor have made for me, Prof Tom Rippeth and especially Dr Yueng-Djern Lenn, who have mentored me beautifully at this early stage of my career.
"I have vastly enjoyed my PhD and made the most of opportunities to present my work at national and international conferences. I have especially enjoyed helping with teaching, participating in science outreach work and making a video of how ocean circulation influences the weather in Wales. I look forward now to completing my thesis this summer and I am grateful for the added focus this award has brought me."
Nominated by Professor Tom Rippeth, who said: "Jess has proved to be an excellent role model in balancing starting a family with building reputations as a leading researcher internationally. She is an excellent ambassador for the University in introducing the world leading research carried out at the School of Ocean Sciences to the local community and also in providing an excellent role model to inspire local children to take up STEM subjects."
Master Draper William Charnley, said: "The Drapers are delighted to be back in Bangor to meet some of the staff and students and award the Drapers medals to two postgraduate students whose work is inspirational. We have seen excellent examples of students' work and we are delighted to be able to support them. We really value our relationship with Bangor University which has been going on for many years and I hope will continue for many years to come."
Publication date: 20 February 2017