Bangor University students awarded prestigious Drapers' Company medals
Bangor University students were presented with the Drapers' Medals recently. The Drapers' Company is one of the historic Livery Companies of the City of London, and now a philanthropic organisation. The Drapers' Company kindly donates two medals each year to be awarded to outstanding postgraduate students.
For over a hundred years, the Company has been linked to the University, initially through substantial grants towards the construction of some of the University's main buildings including the library, science laboratories and the electrical engineering department.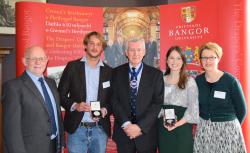 (L-R): Prof Graham Upton, Eduardo Bellomo, Prof Philip Ernest Ogden, Aoife Fitzpatrick and Prof Carol Tully
Professor Carol Tully, Pro Vice-Chancellor (students) led the event and Professor Philip Ernest Ogden, Master Draper, presented the students with the medals. These prestigious awards takes into account the quality of a student's research, teaching, and service to the University and community. Professor Tully said, "We are extremely grateful to the Drapers for their continued support for the University and our students. We're delighted that they keenly follow developments at the University and are inspired by our admirable students."
Eduardo Bellomo, 30, from Verona, Italy was awarded a silver Drapers' Company medal and is currently approaching the end of his PhD in Performance Psychology at the School of Sport, Health and Exercise Sciences. Eduardo completed an undergraduate degree at the University of Padua, Italy and came to Bangor to study his MSc in Sport Psychology.
Eduardo said: "I am honoured to receive this award, it's delightful to be acknowledged for the work I have done throughout my PhD. Not that I expected to win an actual medal for it, in fact the nomination caught me a bit off guard! This would have not been possible without the help of my supervisors, my fellow PhD colleagues, and the services offered by the university. Bangor University has been a place of academic and personal growth for me and I am glad to have studied my PhD here."
Eduardo was nominated for a medal by Dr Andy Cooke, he said: "Eduardo's award is very well deserved. He has performed exceptionally in all aspects of his Doctoral Studies. As a member of the Institute for the Psychology of Elite Performance, he has conducted highly innovative and interdisciplinary research investigating activation and connectivity patterns in the brain during the acquisition and performance of motor skills. His research has revealed several important breakthroughs concerning the functional interpretation of the neural activation patterns that underpin human movement, and these have been published in some of the leading scientific journals in the field. Eduardo has always been a pleasure to work with - he is a real asset to Bangor University - I wish him all the best in his future career."
Aoife M Fitzpatrick, 24, from the Republic of Ireland, was awarded a bronze Drapers' medal. Aoife is in the final stages of finishing her PhD in Cognitive Neuroscience at the School of Psychology.
Aoife said, "I am delighted to be honoured as the recipient of the Bronze Award, my thanks to the Senate Prizes and Awards committee for their consideration. The recognition as having made a meaningful contribution to the University over the course of my time here is incredibly encouraging. The School of Psychology has provided a highly enriching environment throughout my academic training. I have been afforded world-class research training under the tutelage of leaders in multiple fields, alongside access to specialised equipment for cognitive neuroscience."
Aoife was nominated for the medal by Dr Ken Valyear, he said, "It is great to see Aoife be recognized. She is highly driven and devoted to her work, and shows tremendous promise as a young scholar. She is well deserving of this prestigious award. I'm also very grateful to the Draper's Company for supporting this programme. I think it's important that our best students get a chance to be recognised for their hard work and dedication."
Master Draper, Professor Philip Ernest Ogden said: "It is a privilege to be here to see the long running support we provide in partnership with Bangor University. It is wonderful to hear about the wide range of inspirational activities that we are able to support, both postgraduate and staff activities here in the UK and overseas."
Publication date: 8 April 2019