Bangor University Students became 'Dementia Friends' in the run up to Dementia Awareness week
On Monday 8th Bangor University School of Healthcare Sciences invited Theresa Davies to deliver a Dementia Friends session for a class of nurses in Wrexham.
Theresa is a Dementia Champion and lives with dementia and is an 'expert by experience' using her personal experience to help inform both those in the industry and those who have been recently diagnosed.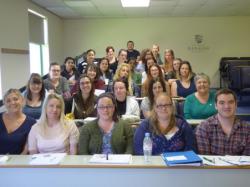 Kate Williams a 3rd year Adult field student nurse who attended the talk said:
"'I thought the session was extremely eye-opening. Teresa was an inspiration and I thought she was very brave standing up in front of us and telling us her story. It was very thought provoking and an experience I will always remember."
The talk was one of several events put on in the run up to Dementia Awareness Week that runs from the 14th to the 20th of May in an effort to raise awareness across the University and build Dementia Friendly Communities.
Dementia Friends is an Alzheimer's Society initiative to increase awareness and understanding about Dementia. Theresa Davies who gave the session said:
"I really enjoyed delivering the Dementia Friends session to the 3rd year student Nurses. I had very good feedback. As a person living with dementia I think it is really important that as part of nurses training that dementia awareness is included."
Bangor University provide an MSc Dementia Studies as well as postgraduate research opportunities that aim to advance person and family centred dementia care across diverse acute and community settings.
Written by: Joshua Jenkins, Journalism Student
Publication date: 18 May 2017