Bangor University Students Demonstrating Excellent Employability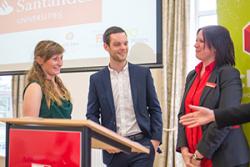 Rhi Willmot and Dan Taylor receiving their Santander Universities Excellence in Enterprise Award from Diane Roberts, University Branch Manager for Santander Universities. The annual Employability Celebration evening was held recently to congratulate and showcase Bangor University students who have taken part in the Bangor Employability Award and demonstrated exceptional commitment to developing their employability through extra- and co-curricular activities whilst at University.
The event, which was attended by staff, students and employers, was an opportunity to award 8 BEA Excellence Awards to students nominated by their academic schools for having taken positive steps to improve their employment prospects after graduating this summer.
Congratulations to the award winners: Samuel Bottom (Business), Peter Doggart (Electronic Engineering), Miriam Mbah (Law), Stacey Carless (Ocean Sciences), Molly Davey (Linguistics), Jake Sallaway-Costello (Psychology), Richard Dallison (SENRGy) and Manon Elwyn Hughes (Welsh).
The evening was also an opportunity to award the Santander Universities Excellence in Enterprise Award to Dan Taylor and Rhi Willmot from the School of Psychology, for their success with their recent venture, the Ugly Foods Shop, and for their involvement in B-Enterprising activities.
Five of the award winners gave interesting and diverse presentations about their experience of developing their employability at University. Peter Doggart (Electronic Engineering), Jake Sallaway-Costello (Psychology), Miriam Mbah (Law), Rhi Willmot (Psychology) and Dan Taylor (Psychology) spoke about experiences ranging from volunteering, taking part in the BEA internship scheme, enterprise competitions, international experiences and their preparation for graduate recruitment procedures.
The guest speaker at the event was Bill Hilton, a Bangor University alumnus who works with multinational companies as a Communications Consultant. Bill gave an interesting talk about his own experiences as a Bangor graduate, and compared the spirit of Bangor students to that of Sir Henry Reichel, one of the founders of the University, who also demonstrated excellent enterprise and employability through his determination and drive to make the University succeed.
Chris Little, Head of the Careers and Employability Service, said:
"Once again the BEA Employability Celebration has been a resounding success, building year on year and showcasing some of Bangor University's best talent. In an increasingly competitive global labour market Bangor University through the BEA has shown that it is encouraging and empowering students to succeed in the job market and their future careers. It was also great to see many employers in attendance and lending their support to the BEA and the students who engage with the award."
See the full album of photos on the Bangor Employability Award Facebook page.
Publication date: 8 May 2015