Bangor University Students get ready for Medieval Weekend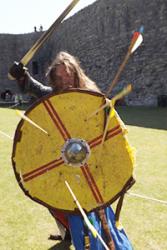 Join King Arthur and his knights for a fun-filled weekend of fighting, feasting, theatre, music and adventure! Beaumaris Castle and Bangor University student societies come together once again to provide medieval entertainment, including live theatre, archery displays, medieval combat, folk music, and an exciting plot throughout the weekend of 6 and 7 June.
Now in its fifth year, the Beaumaris Medieval Weekend is jointly organised by Beaumaris Town Council, Cadw and Bangor University's Students' Union Clubs and Societies. Over a 100 students from the Archery Club, History and Archaeology Society, Medieval Re-enactment Society, Folk Music Society and the English Drama Society will be offering have-a-go sessions throughout the weekend.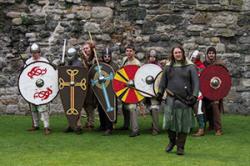 Dan Parker, captain of the Archery Club, said: "Not only is it a brilliant way for us to get together and do what we enjoy most, it also puts us in touch with the wider community and allows us to share our own experiences with them. Many of the people we see through the day have never experienced anything like it and are just fascinated by the history presented right there in front of them – especially the youngsters. It's really nice to see the enthusiasm on their faces when they're picking up a bow or a sword for the first time; and still learning something factual!"
Mike Williams, Head Custodian at Beaumaris Castle, said: "Beaumaris Castle and Cadw are happy to welcome back the students of Bangor University. The Medieval Weekend, now in its fifth year, has been building in popularity year on year. This year's event will be over two days and visitors and locals will be able to enjoy numerous activities, which they can watch and get involved in to learn about how life was during the medieval times.
"Cadw is keen to work with local community groups such as Bangor University of which Beaumaris Castle has done so for a number of years. This event brings the castle to life and attracts lots of students from the University, visitors from the local area, and further afield. These events help promote the important heritage we have in Wales and raises the profile of Cadw and the partners we are working with. This also has an economic benefit for the local businesses in the town as it draws in extra visitors who can enjoy the local area."
Professor Trevor Ashenden, Beaumaris Town Council Clerk, said: "Beaumaris Town Council welcomes the involvement of Bangor University students in the events at the castle."
Publication date: 18 May 2015