Bangor University Students support Anglesey Sixth Formers
Bangor University students have been taking part in Pontio's learning and mentoring programme PROFI over the last few months culminating in a Dragon's Den style event at Neuadd Reichel on Tuesday 10th February.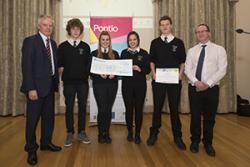 Holyhead Winners (left to right) John Hughes Vice-Chancellor, George Jones, Amber Martin, Nichola Young, Tommy Evans, James Goodman (Deputy Director Pontio). Over the last 12 weeks BU students, also known as 'Profigators', have facilitated workshops with year 12 pupils from Ysgol Bodedern, David Hughes, Syr Thomas Jones, Llangefni and Caergybi and helped pupils to develop their employability skills through working on projects to tackle problems in their communities.
The programme reached its climax with the 'Profi Pitch' involving teams competing against each other for a £500 prize to put their idea into reality in front of a panel of judges comprising representatives from Pontio, Santander Universities UK, Siemens PLC, Vi-ability and Horizon Nuclear Power.
Victory was claimed by Ysgol Caergybi for their 'Stump Out Smoking' campaign which proposes to introduce smoking bins around Holyhead town centre to dispose of cigarette ends, eradicating the unsightly mess from the streets.
PROFI project manager Elen Bonner said: "Its been a privilege to watch young people grow in confidence week on week, and their passion to make a difference in their communities is an inspiration to us all. Bangor University students, who facilitate workshops in schools, have been an invaluable asset to the project"
Ruth Pearson-Blunt, Profigator (2nd Year Psychology Student) commented; "I feel I gained as much from the project as the students we were mentoring. I developed lots of skills such as time management, problem solving, communication, and diplomacy. What I did not expect was the profound affect the project would have on my own confidence and the sense of pride and achievement felt when the young people got up to do their presentations on the final evening"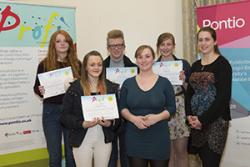 Ysgol Syr Thomas Jones Amlwch (left to right) Lydia Challinor, Leah de Wolf, Michael Lewtas, Natalie Mathews (Profigator), Leia Tewnion, Kevanne Sanger (Profigator)Aaron Hughes, Profigator (3rd Year Computer Information Systems Student) commented, "Profi was a unique opportunity to make a difference in young people's lives in Anglesey. The skills and experiences have made a real difference to the people I mentored as well as myself"
The programme is currently sponsored by local employers Horizon Nuclear Power, Santander Universities UK and Magnox.
BU students involved in the programme have developed a breadth of transferable employability skills, and the time they have spent volunteering has contributed towards their Bangor Employability Award. Mari Roberts Bangor Employability Award Coordinator commented; "The Profi project has given our students an opportunity to put their employability skills into practice and to develop them further whilst also having an opportunity to liaise with the local community. The experience will be very beneficial for them to draw upon when applying for future roles. The University will formally recognise their commitment to the project through the Bangor Employability Award".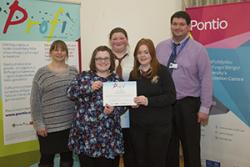 Ysgol Llangefni (left to right) Ruth Pearson-Blunt (Profigator), Emma Williams (Profigator), Lowri Bright, Lowri Jones, Gavin Seynor (Head of 6th form Ysgol Llangefni) If you are interested in volunteering with the Profi programme in 2015/16, please get in touch with Elen Bonner (e.bonner@bangor.ac.uk) or 01248 382813.
Profi is based on Bangor University's flagship undergraduate programme 'Enterprise by Design' and is supported by the Esmèe Fairbairn Foundation, Santander, Horizon and Magnox. The programme was co-produced by Pontio, Chris Walker – People Systems International, Bangor University students and young people from Ysgol Gyfun Llangefni.
Publication date: 20 February 2015