Bangor University through to Sustain Wales Awards Finals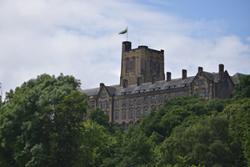 Bangor University has reached the 2016 finals of the prestigious Sustain Wales Awards. The 2016 Awards will bring together over 150 business leaders, innovators, community pioneers, educators and their teams, and are open to any business, organisation or individual that can demonstrate a positive impact and approach to sustainable development within their business or community.
Building on the success of the inaugural Awards launched in 2015, the judges will be looking for outstanding examples from individuals and organisations that are helping to deliver the seven national goals of the Well-being of Future Generations Act, contributing to the environmental, social, cultural and economic sustainability of life in Wales.
Delighted with making it to the finals, Dr Einir Young, the University's Director of Sustainability, explained:
"It's just over a year since The Sustainability Lab was established as the corporate focus of sustainability at Bangor University, acting as a hub and catalyst to bring sustainability to life in all aspects of what we do through our research, teaching and learning, public engagement and our campus affairs. It's relatively early days on our journey towards becoming The Sustainable University so I was delighted to discover that we've made it to the finals."
All nine winners will be announced during the Awards Ceremony on 17 November in Cardiff.
Help us win by voting for Bangor University in the "Sustainable FE/HE Institution" category! http://www.cynnalcymru.com/online-vote/
Publication date: 30 September 2016