Bangor University to turn red for Team Wales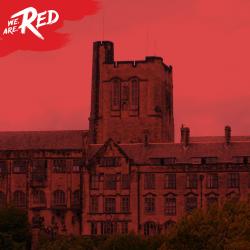 On March 23, Bangor University's Main Arts building turns red to show support for the Welsh athletes competing at the Commonwealth Games in Australia next month.
Six athletes from Bangor University will represent Wales:
WEIGHTLIFTING
Seth Casidsid - Psychology graduate and works at Canolfan Brailsford
Gareth Evans - Canolfan Brailsford Sports Assistant, represented GB in London Olympics
Catrin Jones - Psychology student
Harry Misangyi - Sports Science student
Hannah Powell - Sports Science graduate, works for Welsh Weightlifting who are based at Canolfan Brailsford.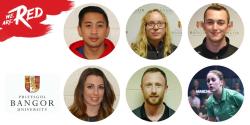 SQUASH
Tesni Evans - trains at Bangor University, is current British National Champion, ranked #12 in the world, plays on the professional world tour wearing a Bangor University branded shirt.
Richard Bennett, Bangor University Director of Sport, said: "We are very proud and honoured to be involved in this 'We Are Red' campaign in support of our 6 athletes who are competing in the Commonwealth Games."
Everybody is encouraged to wear red on the day itself and share the celebrations using the hashtags #WeAreRed and #CymryCoch on social media.
Non Stanford, who will captain Team Wales over the 11 days of sport in the Gold Coast said: "Welsh support is absolutely invaluable to us when we're overseas competing and we would love it if, on March 23rd, you could show your support for us. We hope that, as a team, we inspire you to try a new sport and get active. Let's do this together."
Sarah Powell, Sport Wales chief executive said: "We know what great sport supporters we are and 'We Are Red day' is our chance to unite and get behind the Welsh athletes who come from all corners of the country. This is an opportunity for us all to show Team Wales that we will be cheering them on as they put on their red shirt and give their all at the Games. We want to see you all get involved, by joining together and wearing your finest red on March 23rd. Let's show what sport means to us and unite this proud sporting nation – we are red!"
For more information, visit sport.wales/wearered
Related stories:
Strong Bangor University contingent at 2018 Commonwealth Games
Publication date: 22 March 2018